To promote tree plantation, Min Rai inaugurates 'Van Mahotsav'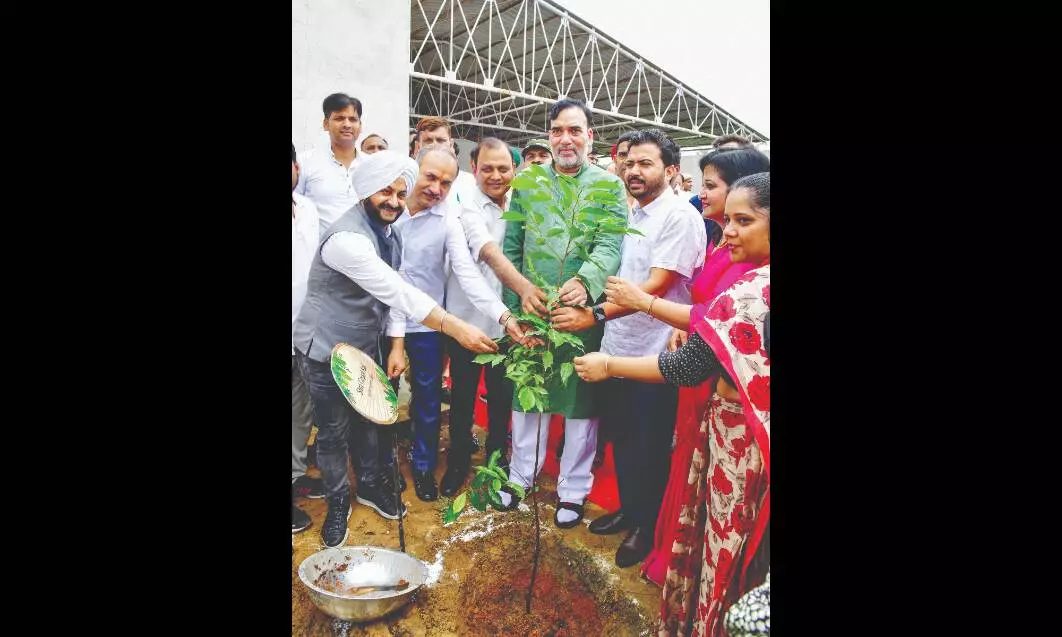 New Delhi: The Delhi government on Sunday inaugurated the "Van Mahotsav" programme at IARI, Pusa to increase the green cover in the city.

The event was inaugurated by Environment minister Gopal Rai, who said that since his government has started taking such initiatives pollution has been decreasing every year.
While pollution levels are rising in other cities across the country, Delhi has experienced a significant reduction of 30 per cent in the past eight years, Rai said
During the programme, attendees, including MLAs, RWAs, and members of Eco Clubs, took an oath to emphasize the importance of the environment. Free medicinal plants were distributed to all participants. MLAs Durgesh Pathak, Somnath Bharti, Shiv Charan Goyal, Virender Singh Kadian, Jarnail Singh, Pramila Tokas, and Madan Lal were also present during the inauguration.
Over 6 lakh saplings will be distributed this year, surpassing the target set by the government, officials had said. A total of 14 government nurseries will provide these saplings. The Van Mahotsav program, will be celebrated in different Lok Sabha constituencies across Delhi concluding on August 20 at Chhatrasal Stadium.
"The green cover in Delhi has increased from 20 percent in 2013 to 23.06 per cent in 2021, thanks to the efforts of the Kejriwal government," the minister added.
Highlighting the government's commitment to tree plantation, Rai announced that the administration had already planted 1 crore 18 lakh trees during their second term and set a target of planting 2 crore trees over five years. This year, the government aims to surpass its target by planting 52 lakh saplings, reaching a total of approximately 1 crore 70 lakh saplings in their fourth year in power.
An online portal has been launched to facilitate sapling distribution, allowing citizens to browse and book their preferred saplings from the comfort of their homes. The portal also encourages participants to upload a selfie with the planted sapling, enabling real-time tracking of distributed plants.
"The roadmap for a better and pollution-free environment can only be created through public participation," he added.