'Strange' that L-G takes credit for Yamuna's improvement but shuns accountability: Min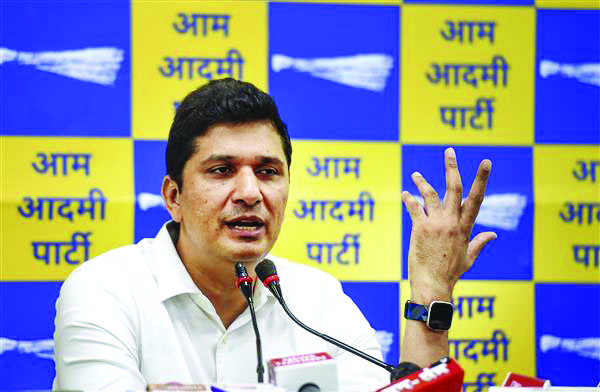 New Delhi: Delhi Water minister Saurabh Bharadwaj on Sunday said it is "strange" that Lieutenant Governor V K Saxena takes credit for the improvement in the Yamuna river's water quality while all accountability lies with the Kejriwal government.

In a statement released by his office, Bharadwaj said no significant improvement in the Yamuna water quality could be achieved without enhancing the quality and capacity of sewage treatment plants.
"It is quite strange that any improvement in the pollution of Yamuna is claimed by the L-G while all the accountability and answerability lies with the Arvind Kejriwal government," Bhardwaj said.
Bhardwaj said the reference parameters for sewage treatment plant functioning were recently changed nationwide, and states have started rehabilitating their STPs accordingly.
The Delhi Jal Board (DJB) has been at the forefront of these efforts. It has already awarded contracts to professional firms for the rehabilitation of 11 STPs, aiming to upgrade them to the latest parameters of BOD (Biochemical Oxygen Demand) and TSS (Total Suspended Solids) of less than 10 milligram per litre, he said.
Once rehabilitated, the total volume handled by these STPs would reach 476 MGD (Million Gallons per Day), he added.
Simultaneously, an additional capacity of 130 MGD will be created in these existing STPs, with 80 MGD to be achieved by December 2023, 98.5 MGD by March 2024, and the remaining 130 MGD by June 2024, the minister said.
He said the DJB has undertaken the upgradation of four STPs — Okhla, Ghitorni, Mehrauli, and Vasant Vihar — using low-cost dosing technology.
He said the DJB has also been actively providing household connections in sewered areas.
Over 4 lakh households have already been connected, and 571 jhuggi-jhopri clusters have been tapped, redirecting wastewater to the sewer network. Additionally, 33 out of the 76 drains have been tapped and diverted, with plans to tap the remaining drains by December 2023.
The 22-km stretch of the river between Wazirabad and Okhla in Delhi, which is less than 2 per cent of the river length, accounts for around 80 per cent of its pollution load.
Untapped wastewater from unauthorised colonies and jhuggi-jhopri clusters, and poor quality of treated wastewater discharged from sewage treatment plants (STPs) and common effluent treatment plants (CETPs) is the main reason behind high pollution levels in the river.
The Delhi government has promised to clean the Yamuna to bathing standards by February 2025.