Some people who are not ED officials have been part of agency's investigation process'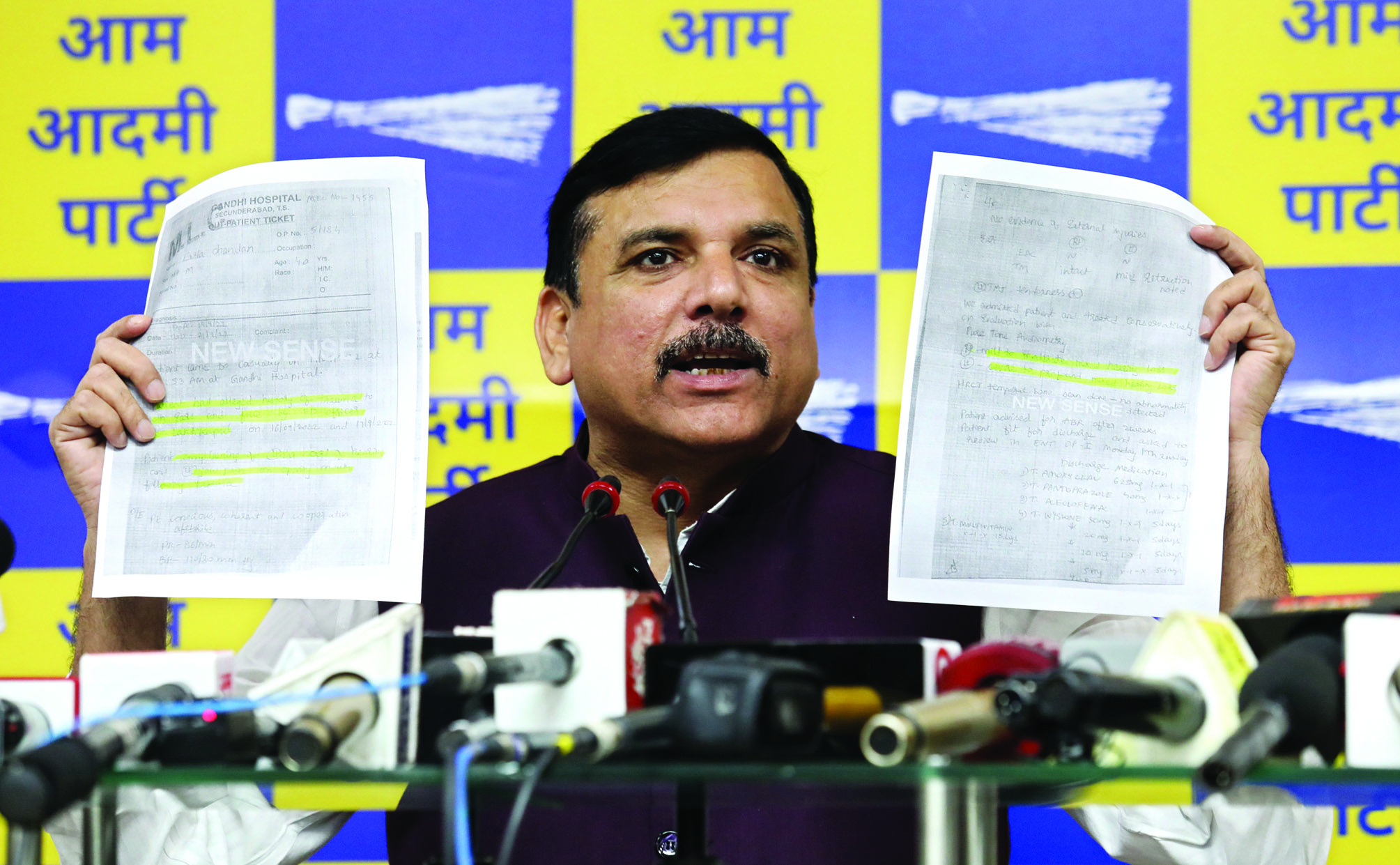 AAP leader Sanjay Singh Wednesday alleged the Enforcement Directorate obtained "false statements" in the excise policy case by putting people under duress, and said he will raise the issue before the privilege committee of Parliament.
The Rajya Sabha MP alleged a person named Chandan Reddy was beaten black and blue by ED sleuths to obtain a false statement during interrogation, and he now fears he might suffer a hearing loss.
"Chandan has moved the (Telangana) High Court complaining against the ED," Singh told a press conference here, showing purported copies of Reddy's medical certificate.
The MP said he will raise the matter before the parliament's privilege committee, and present these documents. "These documents prove that the ED makes false cases under political pressure, defames governments and levels false allegations...There is no liquor scam."
Senior AAP leader and former deputy chief minister Manish Sisodia has been arrested by the ED on money laundering charges related to the excise policy case. He was also the city's excise minister.
Singh claimed that alleged liquor scam accused Sameer Mahendru, Arun Pillai and three others have also complained against ED officials, accusing them of having obtained their statements under duress.
"I have been given privilege notice for raising abysmally low conviction rate of ED cases...I will now raise this issue before the privilege committee with documents so that ED officials are called and truth about the complaints filed against them be ascertained," Singh added.
He further alleged that some people who are not ED officials have been part of the agency's investigation process.
"This is how the ED has become the enforcer of dictatorship. Even people who are not ED officials were present during Chandan Reddy's interrogation. Who are these goons accompanying ED during their investigation? Arun Pillai, Sameer Mahendru, Bhusar Belgavi, Manaswami Prabhu and Raghav Reddy have even accused the ED of torturing them during interrogation," Singh alleged.
CM Arvind Kejriwal also took to Twitter to double down on the charges against the ED. "The allegations levelled by Sanjay Singh against the ED are very serious."