SC asks how L-G can act 'without aid & advice' of council of ministers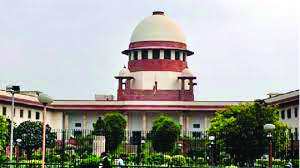 New Delhi: The Supreme Court Monday orally observed as to how can the Lieutenant Governor (L-G) act "without aid and advice" of the council of ministers in nominating 10 members to the Municipal Corporation of Delhi.

The top court, which had earlier issued notice on the plea of the Delhi government, granted 10 days to the office of the LG, represented by Additional Solicitor General (ASG) Sanjay Jain, to file the response to the petition seeking quashing of the nomination of the 10 members.
"How can the L-G take the decision without aid and advice of the council of ministers? This has to be exercised on the aid and advice...," a bench comprising Chief Justice D Y Chandrachud and Justices P S Narasimha and J B Pardiwala said.
The ASG, at the outset, said an amendment to Section 44 of the GNCTD Act (the Government of National Capital Territory Act) was made after the 2018 judgement of a constitution bench of the top court.
"In view of the amendment, a notification, which is under challenge in a separate petition, was issued," the law officer said, adding that the response by way of an affidavit will be filed.
Senior advocate A M Singhvi, appearing for the Delhi government, opposed the submissions saying they were "patently wrong" and the constitutional interpretation of Article 239AA (which deals with Delhi) by the Supreme Court cannot be negated by amending a statute.
He alleged the Delhi government officers were "emboldened" as they were sending the files directly to the office of the LG without first sharing them with the Delhi government.
"This way, every time we have to come to the court for relief and they are enjoying the power. The statute cannot change the constitutional interpretation," he said, adding that strictures be passed against the Delhi government officers.
"This MCD is divided into 12 zones and each zone has a ward committee and each committee gets a nominated aldermen to sit. So what is there by electoral majority is nullified by the aldermen and thus standing committee is chosen. The whole object is patently illegal," Singhvi said.
The bench said it will list the petition.
Earlier, the top court had sought a response from the office of the L-G on the plea.
In the petition filed through lawyer Shadan Farasat, the Arvind Kejriwal government has challenged the decision of the LG to nominate the members allegedly without the "aid and advice" of the council of ministers.
The bench had taken note of the submissions of Singhvi and issued notice to the Office of Lieutenant Governor through its principal secretary for April 10.