Rai writes to two Union Ministers, seeks review meet of states on stubble burning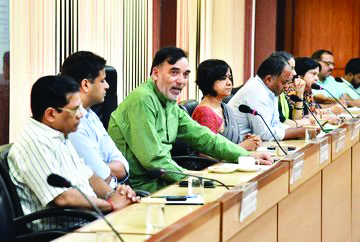 Delhi Environment minister, Gopal Rai, has written to Union Environment Minister Bhupendra Yadav and Union Agriculture Minister Narendra Singh Tomar, urging a joint review meeting with concerned states to tackle winter pollution caused by stubble burning.
The letter calls for collaborative action to create and effectively implement an action plan, protecting Delhi residents from the mounting air pollution risk stemming from stubble burning.
Despite an earlier meeting with NCR state ministers on August 3 addressing this issue, the recent upsurge in such incidents necessitates another comprehensive review meeting involving all relevant states.
Highlighting the multifaceted nature of pollution during the winter season, Rai explained, "The problem of pollution increases a lot during the winter season inside Delhi. There are many reasons for increasing pollution in the winter, including stubble burning, crackers, vehicle pollution, dust pollution, etc."
For this year's winter action plan, the Delhi government is focusing on 15 key areas, including hotspots, stubble burning, dust pollution, vehicular pollution, open waste burning, industrial pollution, the establishment of a green war room and a green app, real-time apportionment studies, an E-waste eco-park, extensive plantation drives, urban farming initiatives, public participation, a ban on burning crackers, and fostering dialogue with the central government and neighbouring states.
Rai expressed optimism regarding the collaborative efforts between the Delhi and Central Governments, emphasizing the need for coordinated action to address winter pollution effectively. He underscored the Delhi government's commitment to providing a clean environment for the city's residents and cited significant achievements in curbing pollution levels over the past nine years.
"The level of pollution inside Delhi is steadily dropping as a result of measures taken by the Delhi government. The government has been successful in tackling the issue of pollution in Delhi and will continue to do so. However, without a coordinated effort, it is challenging to resolve the winter pollution issue in Delhi," said the minister.
He concluded by stating, "We are hopeful that the Central government will cooperate with us so that we can make an effective action plan and implement it to save Delhi from the danger of air pollution in the coming winter season."