Rai holds meet on pollution control with over 200 representatives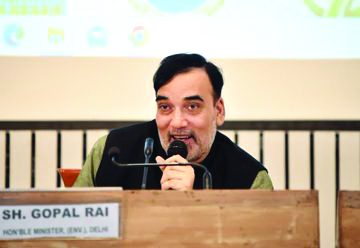 New Delhi: Delhi Environment Minister Gopal Rai held a key meeting on Monday, gathering more than 200 representatives from both government and private construction agencies at the Delhi Secretariat.

The meeting aimed to underscore the importance of adhering to a rigorous 14-point guideline to mitigate dust pollution, a crucial step towards safeguarding the capital's air quality.
The 14-point guideline designed to prevent dust pollution at construction sites, lays out a comprehensive plan that construction agencies, both government and private, are obligated to follow.
Among the directives are the construction of dust/wind-breaking walls around the construction site, the installation of anti-smog guns for larger construction areas, and the mandatory covering and cleaning of all vehicles involved in construction activities.
Furthermore, an essential aspect of the government's strategy is the mandatory provision of on-site training for construction workers to ensure they understand and implement these guidelines effectively. In a bid to address pollution during the upcoming winter season, the government is also devising a 15-point winter action plan, with dust pollution control being a pivotal focus area.
As part of this initiative, construction firms with an area of 5,000 square meters or more will be obligated to install anti-smog guns on their sites.
During the meeting, Rai and the representatives of construction agencies engaged in a comprehensive discussion about the 14-point guidelines and solicited suggestions from industry experts.
The guidelines issued to government and private construction agencies encompass various facets of dust control, from dust-breaking walls and green netting to covering vehicles and recycling construction waste.
Each guideline aims to minimise dust emissions and contribute to cleaner air in the city.