Over 500 varieties on display: Mango Festival returns to Delhi after 3 years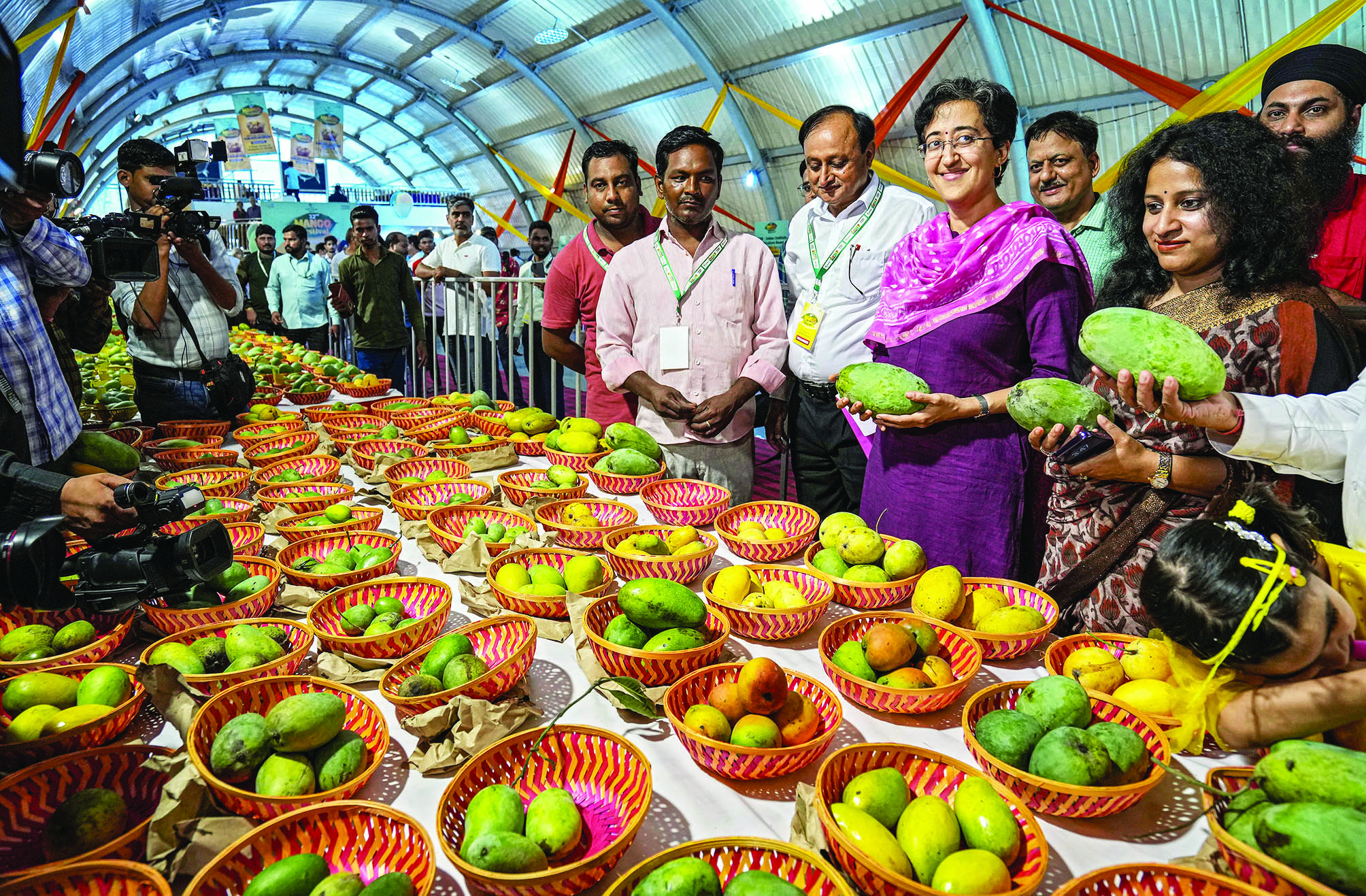 New Delhi: After a hiatus of three years, the 32nd Annual Mango Festival was inaugurated on Friday by Delhi Tourism minister Atishi at Dilli Haat, Janakpuri.

The Mango Festival will be held at Dilli Haat, Janakpuri, from July 7 to 9.
Praising the efforts of the Delhi government, the Tourism minister said that this three-day extravaganza aims to promote tourism, celebrate the beloved "King of Fruits" and provide a platform for mango producers to expand their businesses.
This initiative by the Delhi government, showcases the rich diversity of mangoes from all corners of the country. Visitors can embark on a journey exploring over 500 varieties of mangoes, indulge in mango-related competitions, and enjoy vibrant cultural programmes.
Visitors will get to see different cultural programmes and explore the diverse world of mangoes from 12 pm to 10 pm each day. The festival is open to all, with no entry fee, and a complimentary shuttle service from Tilak Nagar Metro Station has been arranged for the convenience of attendees.
The festival promises to showcase mangoes of various shapes and sizes, ranging from grape-sized to papaya-sized mangoes. Rare and popular varieties such as Langra, Chausa, Fazri, Rataul, Ramkela, Hussainara, Kesar, Mallika, and Amrapali will be on display, capturing the attention of mango enthusiasts and connoisseurs alike. In addition to traditional mango cultivators, numerous government and non-governmental organisations are actively participating in this event, announced by the AAP government.
Alongside the mango displays, visitors can partake in engaging activities such as the Mango Eating Competition for Men on July 8 and the Mango Eating Competition for Women on July 9, both at 5:00 pm. Furthermore, there will be a Mango Quiz and Slogan Writing Competition, cultural performances, and an opportunity to purchase mangoes and mango-based produ
"Mango which is everbody's favourite fruit and summers are synonymous. It brings back cherished childhood memories of bonding over mango-eating competitions. While we witnessed numerous mango orchards in our time, children growing up in metropolitan cities like Delhi might miss out on these experiences. However, this unique initiative by the Delhi government will provide them an opportunity to experience the journey of mangoes from orchards to plates and learn more about the king of fruits," she added.