Not politics, in Manipur to assist people, says DCW chief Maliwal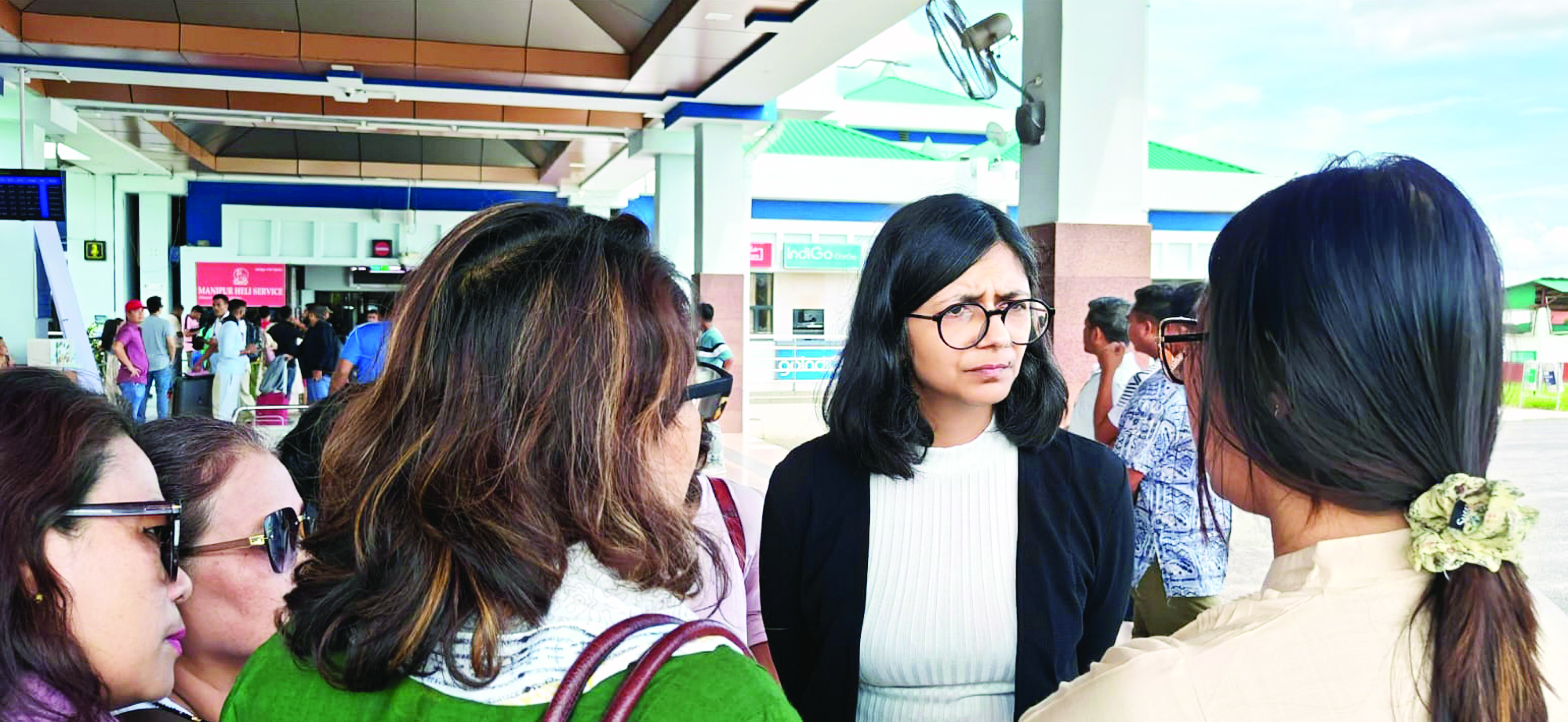 New delhi/Imphal: Delhi Commission for Women (DCW) chief Swati Maliwal on Sunday said that she had come to Manipur to assist people and would appeal to Prime Minister Narendra Modi and Union Minister for Women and Child Development Smriti Irani to visit to the state to look into people's suffering.

Maliwal, who came Sunday afternoon to the ethnic strife-torn state, also said she reached here not to indulge in politics and would go back if those who should be here visited the state.
"I have not come here to do politics, but to assist people I would appeal to the PM and Union Minister for WCD to come and visit the state," the feisty DCW chief told reporters at Imphal airport.
"Women here have already approached me violence is affecting them for the last three months," she said.
She had earlier announced she would be going ahead with her visit to the state despite the state government allegedly denying her permission for the visit.
In a tweet on Sunday, Maliwal said she has written to Manipur Chief Minister N Biren Singh seeking an
urgent meeting with him during her visit.
"Manipur Govt recommended I consider postponing my visit due to law and order situation. After deliberation on their suggestion, have decided to fly to Imphal as planned. Sought time from Manipur CM. Will meet him & request him to come along to visit the sexual assault survivors," Maliwal tweeted.
Maliwal also shared a copy of a letter written to the Manipur chief minister on Sunday in which she urged him to facilitate her visit while ensuring that she will not do anything to create problems for the state government.
"I seek an urgent meeting with your hon'ble self to discuss the extremely pertinent issue of the human rights violations and sexual assault cases occurring in Manipur... Several Manipuri women have come to Delhi in order to escape the ongoing violence in the state. I wish to discuss issues regarding their welfare as well with your hon'ble self," she said in the letter.
She also sought the CM's support in visiting the violence-affected relief camps where the victims of sexual assault are presently staying.
Meanwhile, the Delhi Police on Sunday denied permission to a civil society organisation to hold a solidarity meeting on the ethnic violence in Manipur, citing the law and order situation, according to an official order.
The Conference For Human Rights (India) had planned to organise a solidarity meeting in southeast Delhi's C R Park on Sunday and had sought permission from the local police for it.
In an official communication to Conference For Human Rights (India) secretary general Nanita Sharma, police said, "... it is submitted that the permission to hold solidarity meeting at Market no. 2 is not granted considering the law and order situation."
More than 160 people have lost their lives and several have been injured since ethnic violence broke out in Manipur on May 3, when a 'Tribal Solidarity March' was organised in the hill districts to protest against the Meitei community's demand for Scheduled Tribe status.