Nadda lays foundation for Delhi BJP's new office building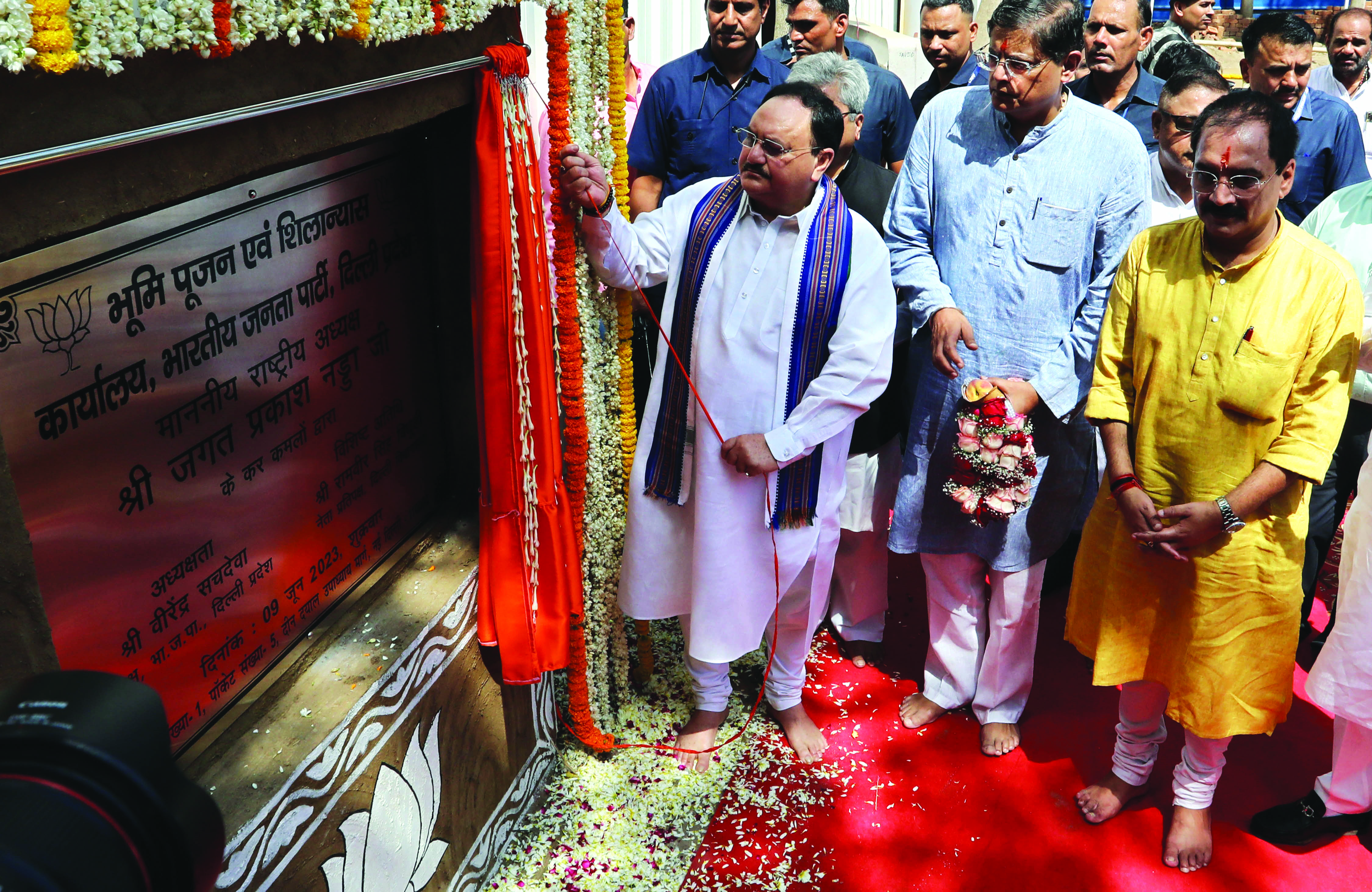 New Delhi: BJP president JP Nadda laid the foundation stone for a new office building of the party's Delhi unit at DDU Marg here on Friday, and accused opposition parties, including the Congress and AAP, of doing politics for power and lacking ideology.

"The BJP is the only cadre and mass-based party having an ideology, while all other parties do not have any ideology and they are pursuing politics for power only," Nadda said after participating in an elaborate 'Bhumi Pujan' ceremony for construction of the building.
He hit out at the Congress accusing it of joining hands with its arch-rival communists "just to oppose the BJP", and claimed that it was heading towards a phase of having no ideology ('Vaicharik Shunyata').
Slamming the Aam Aadmi Party and its convenor and Delhi Chief Minister Arvind Kejriwal, Nadda said, "It's a shame for Delhi that such people are leading us. The AAP has quite a journey beginning with Lokpal to being 'malamaal'".
Alleging "liquor scam" in the Kejriwal-led Delhi government, the BJP president said "there should not be such a government. We will have to wage a democratic battle against it."
Taking a dig at Kejriwal, Nadda said he touted himself to be "Kattar Imandar" (hard-core honest) despite his former deputy chief minister being denied bail multiple times by the court.
Nadda lauded the BJP saying under the leadership of Prime Minister Narendra Modi, the party not only changed the government in the country but also started a new culture of politics based on development and performance.
"The change from 'Vanshvad' (nepotism) to 'Vikasvad' (politics of development) has come due to Modi. The BJP has replaced the vote bank politics with 'report card' politics," he said. Citing scrapping of Article 370 and construction of Ram temple in Ayodhya, Nadda said the BJP always strived to pursue and achieve its goals after deciding its ideology and programmes.
Nadda along with BJP organisation general secretary BL Santhosh and Delhi BJP president Virendra Sachdeva performed the Bhumi Pujan ceremony prior to laying the foundation stone for Delhi BJP office building, saying it was a "historic moment" for the party.
The four-storey building inspired by South Indian temple architecture is expected to be completed in the next 18 months, BJP leaders said.
Situated on a 825 square metre plot, the new building will have a built up area of 30,000 square feet, they said.
It will have facilities like parking, canteen and an auditorium having a sitting capacity of 300 people, besides offices for Delhi BJP functionaries, the BJP leaders added.