More rain in Delhi keeps mercury down at 26.10C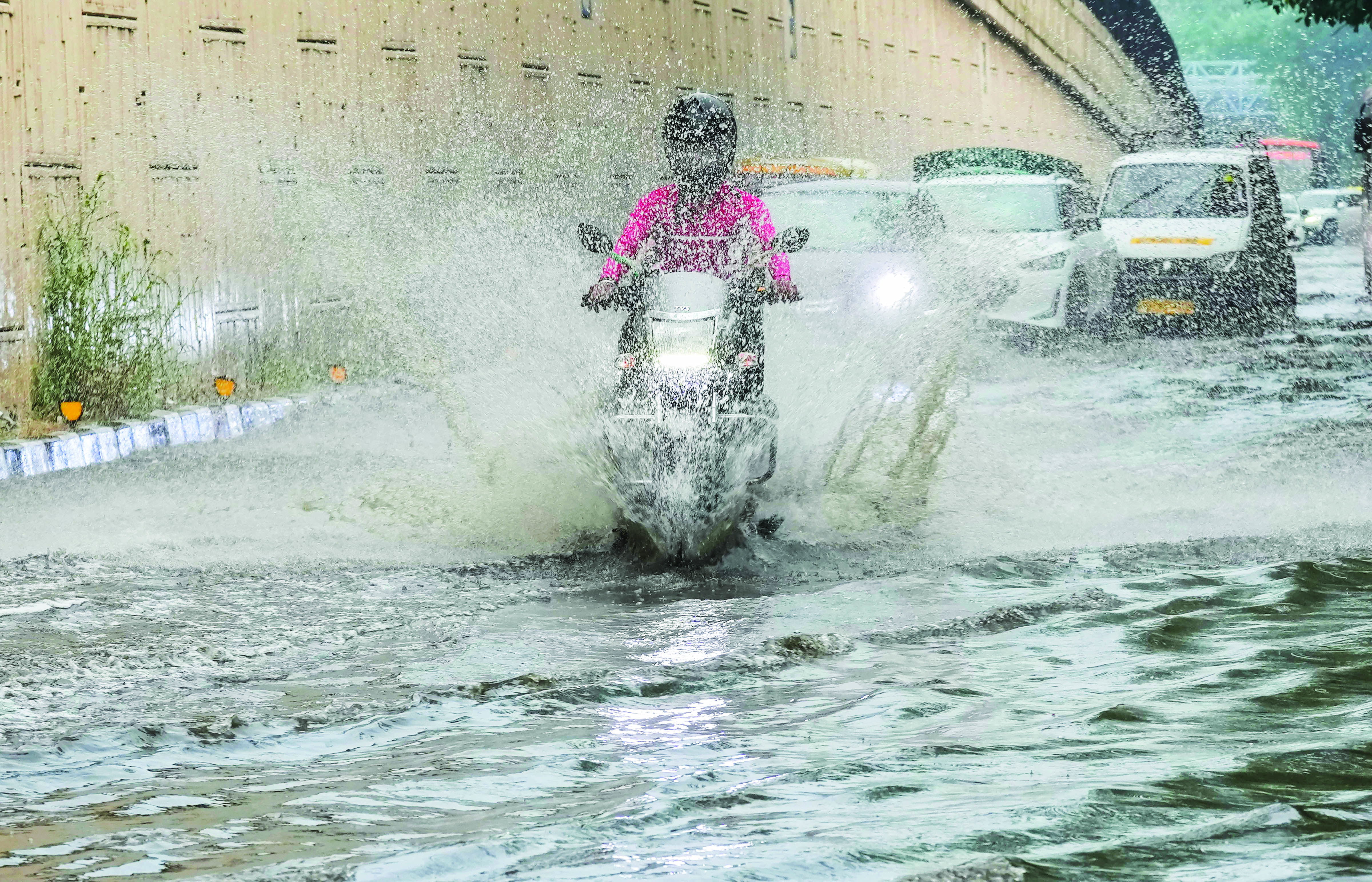 New Delhi/noida: Heavy rains in many parts of Delhi on Monday kept the mercury at a pleasant 26.1 degrees Celsius, 13 degrees below average for this time of the year, with the wet spell likely to continue for two more days owing to western disturbances.

It was the second coolest day of May in 13 years and also the second day on the trot where the maximum temperature settled at 10 degrees below normal during the summer season, which generally sees the mercury soaring during the month. While the showers improved the air quality to the satisfactory category as AQI read 86, they also brought waterlogging and traffic woes for Delhiites who had to wade through knee-deep water to reach their destinations in severa areas.
Delhi recorded 14.8 mm of rainfall on Monday while the minimum temperature was recorded at 19.6 degrees Celsius, five degrees below normal, the India Meteorological Department said. Light rains on Sunday had also brought down the maximum temperature to 28.7 degrees Celsius, 10 notches below the season's average and the lowest in the month since April 4, 2015. Humidity levels oscillated between 77 per cent and 100 per cent.
The national capital recorded 23.8 degrees Celsius, the lowest for May in the last 13 years, along with 120 mm of rainfall on May 20, 2021. On May 23, 2017, the city logged a high of 29 degrees Celsius.
Rainwater flooded Mahatma Gandhi's memorial Rajghat while there was waterlogging on several key stretches around Gandhi Nagar, Bhairon Mandir, Adchini, Lajpat Nagar, Sarai Kale Khan, Mehrauli Badarpur Road, Sadar Bazar, Pul Prahladpur underpass, Rao Tula Ram flyover, and Zakhira flyover.
According to MeT officials, the rains are due to western disturbances and are likely to continue for the next two days. The weatherman has forecast a generally cloudy sky along with light rain or thundershowers along with gusty winds on Tuesday. The maximum and minimum temperatures are likely to settle around 27 degrees Celsius and 19 degrees Celsius.
Hailstorm activity is very likely over Delhi and its neighbouring states in the next few days. On Monday, Lodhi Road, Ridge and Sports Complex observatories recorded 13.3 mm, 21.2 mm and 16 mm of precipitation, respectively. The air quality is expected to remain in the satisfactory category on Tuesday while it may shift to the moderate category on Wednesday and Thursday.
Traffic snarls and waterlogging were reported in several parts of the national capital on Monday as rain lashed the city making it difficult for the commuters to reach their destination on time. The Delhi Traffic Police said 42 calls were received at its control room over traffic congestion, along with seven calls related to waterlogging.
Commuters experienced traffic snarls in areas including Jhandewalan Mandir, Paschim Vihar, Rohini and south Delhi, they said. The Pragati Maidan tunnel, which connects India Gate with Ring Road here, witnessed waterlogging on Monday due to rain, with officials saying the problem persisted for only a few minutes.
Scaffolding at multi-storey site crashes in Noida amid heavy rains, 2 hurt: A section of scaffolding at an under-construction multi-storey building here collapsed amid intense rains Monday, leaving two persons injured, police said. Two adjoining makeshift accommodations and a private car were also damaged as the scaffolding came crashing down from the sixth-floor height, they said.
"The under-construction building is located in Sector 64, under Phase 3 police station limits. Two persons were injured, while two shops and a car damaged after the temporary structure crashed," a police spokesperson said.
Meanwhile, the incident spot in Sector 64 turned into a selfie point for locals despite drizzles that continued after an intense spell of showers around noon.
In a separate incident, a pole crashed down on a road near the Shiv Mandir in the Mamura area of the city Monday in the wake of the heavy rains that were accompanied by storm.