Min visits 'Divyangjan Camp'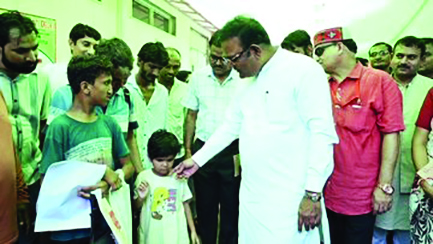 New Delhi: Showcasing the Delhi government's commitment to fostering inclusivity and equal opportunities for differently-abled citizens, Social Welfare minister Raaj Kumar Anand on Friday visited the 'Divyangjan Camp' held at Maharishi Valmiki Hospital in Pooth Khurd.

The 'Divyangjan Camp' featured the Unique Disability ID (UDID) registration process, enabling differently-abled individuals to access personalised services catering to their specific needs. The camp provided services such as job opportunities, issuance of Disability Certificates, bus passes, railway concession passes, and other facilities to facilitate their active participation in society.
During the camp, 670 Divyangjans directly benefited from various services, receiving support that included UDID-related services, job opportunities, differently-abled equipment, and additional assistance. The participants underwent manual assessments by the Medical Board constituted by Maharishi Valmiki Hospital, allowing them to obtain Disability Certificates for various conditions.
Anand personally interacted with the participants and their families, gaining invaluable insights into their challenges and triumphs. Impressed by their indomitable spirit and determination, he expressed admiration for the differently-abled individuals, reassuring them of the Kejriwal government's unwavering commitment to fostering an inclusive society.
"The Kejriwal government stands firmly behind the differently-abled community, striving to provide equal opportunities and accessible services,"Anand had stated. The camp served as a powerful testament to the government's dedication to empowering every individual with dignity and respect, regardless of their abilities.
The government's efforts to promote inclusivity and provide tailored services for the differently-abled have garnered appreciation, promising a brighter and more inclusive future for all citizens of the national.