L-G Saxena praises Delhi govt, lists achievements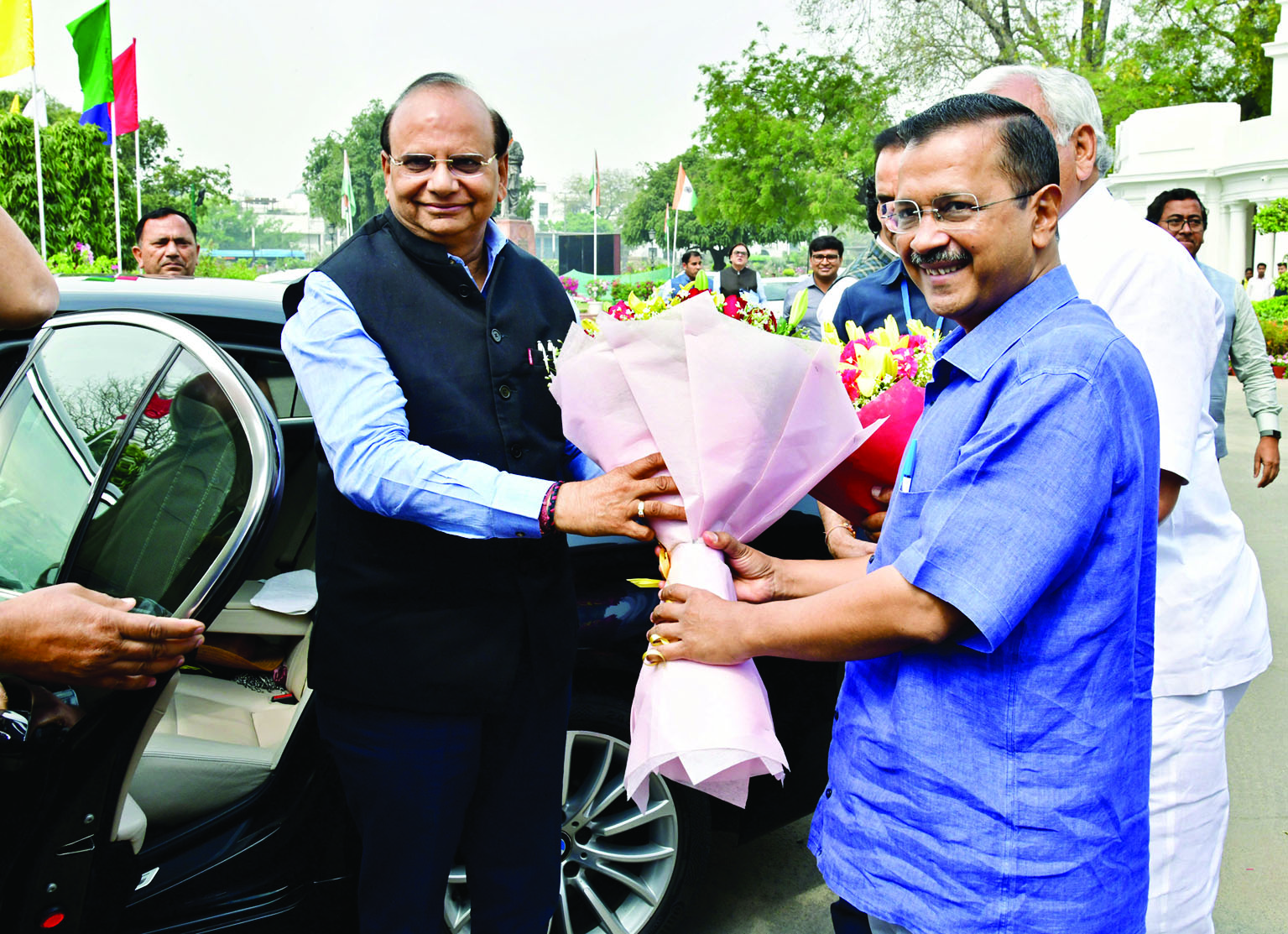 New Delhi: The Budget session of the Delhi Assembly commenced on Friday with the maiden address of Lieutenant Governor V K Saxena, who listed out various achievements of the government and hoped that the national Capital becomes a progressive global city one day.

His address was interrupted as BJP legislators raised slogans demanding Chief Minister Arvind Kejriwal's resignation over alleged corruption in the now-scrapped excise policy and AAP legislators opposing them.
To bring order to the house, Speaker Ram Niwas Goel marshalled out three BJP MLAs for interrupting the L-G. Other party legislators too walked out of the assembly shortly after.
"Delhi being a national Capital attends to people from all parts of the country and from all walks of life, coming to work and making Delhi their home. My government seeks to fulfil their aspirations, through sincere responsiveness and efforts. I am sure that with the help and cooperation of the members of this august house we shall overcome challenges and transform Delhi into a modern, progressive and global city," he said.
The L-G said quality education supported by complementary infrastructure has been the professed goal of the government.
"As a result of the government's focused attention on improving the quality of education, the students of Delhi have done exceedingly well in the sphere of education.
Government schools recorded pass percentage of 98 per cent and 97 per cent at classes 12th and 10th level respectively,
during the academic session 2021-22," he said.
Listing out other education initiatives, he said the Delhi Board of School Education has started functioning in 41 schools of the Delhi government.
In next few years, the scope of coverage will be extended to the willing private schools also, he said.
To equip children of Class 3-9 with basic reading and writing skills, Mission Buniyaad' programme was conducted and is still continuing to fill the learning gap and to recover the learning loss due to Covid-19, he said. He also spoke about a "happiness curriculum" and the government's vision to convert all classrooms into digital classrooms within five years.
Project Voices' is being launched in all schools for students of Class 3-12 for sharing thoughts through speaking while the government has decided to setup a boarding school for underprivileged children, he said.
Sharing the initiatives in the sector of higher education, he said the Delhi Pharmaceutical Sciences and Research University has added a centre of excellence Centre for Precision Medicine with ultra-modern facilities. It will help in research in RTPCR, genome study etc.
Noting that the Covid-19 pandemic adversely impacted the demand and supply of goods and services in the economy, he said that Delhi has remained an island of robust economic fundamentals.
The Gross State Domestic Product (GSDP) of Delhi at current prices increased from Rs 6,16,085 crores in 2016-17 to Rs 9,23,967 crores during 2021-22, registering a growth of 50 per cent. "The contribution of Delhi to national GDP (at current prices) is 4.22 per cent as compared to its share of 1.52 per cent in the total population of the country. The per capita income of Delhi at current prices is estimated at Rs 4,01,982 during 2021-22 registering an increase of 16.81 per cent as compared to Rs 3,44,136 during 2020-21," he said.
The Delhi Assembly passed a resolution against the disruption of L-G's address by
BJP MLAs with CM, saying they violated the decorum of the House.
In reference to strained relations with the AAP government, Delhi Lt Governor V K Saxena on Friday said that the "dignity of speech" has broken down in the recent days, but the relationship will remain intact.
There is no doubt, the dignity of speech has been hurt in the last few days, Saxena told reporters at the Vidhan Sabha when asked about "soured" relations between him and Chief Minister Arvind Kejriwal.