L-G & CM inspect repair work of water regulator, hope to plug breach soon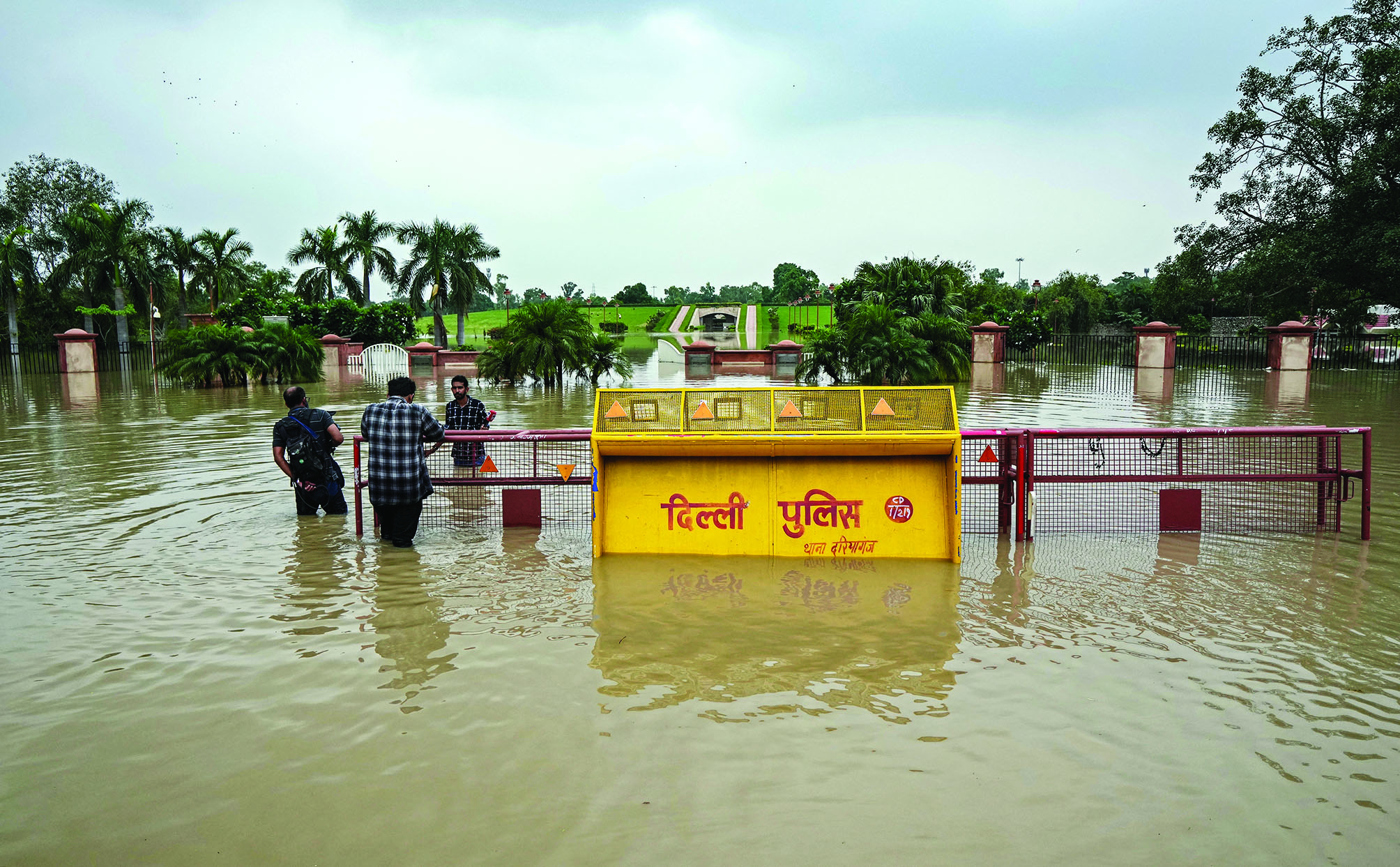 New Delhi: L-G V K Saxena and Chief Minister Arvind Kejriwal on Friday inspected the repair work of the Indraprastha water regulator, breaches in which inundated parts of the Ring Road and ITO with flood water reaching close to the Supreme Court complex.

After the Irrigation and Flood Control Department's regulator was breached, many areas, including ITO and Rajghat, were submerged.
With the Army, NDRF as well as personnel of the Flood Control department and Delhi Jal Board of the Delhi government deployed to stop flood water from entering the city through the breach, both Saxena and Kejriwal hoped the situation would be under control soon.
The flow of water from the Yamuna was so strong that it breached the regulator and entered the city. The water level in the Yamuna is receding but this damaged regulator is causing waterlogging at ITO and in nearby areas, Kejriwal told said.
"Labourers and engineers worked overnight to create a mud wall to stop the water (from entering the city). The Army and the NDRF have also joined the operation. I believe we will be able to stop the water in the next three-four hours," he said.
The chief minister said the water level in the Yamuna has started receding. He said Rajghat has been flooded due to the backflow of a drain in the area. Floodwaters reached the entrance of the Supreme Court in central Delhi on Friday after the regulator at Indraprastha suffered damage on Thursday evening.
He said efforts were being made by the Army to prevent flood water from entering the city by using sandbags, braces and stone boulders.
Delhi Cabinet minister Saurabh Bharadwaj alleged that the regulator was damaged because of the delay in the deployment of the NDRF, even as Lieutenant Governor Vinai Kumar Saxena urged him not to start a blame game. Bharadwaj, who is the minister of Irrigation and Flood Control, in presence of Saxena, during the inspection, alleged that despite reaching out to the officers to deploy NDRF and fix the damaged water regulator Thursday night, "there was no response from them."
"We wrote to the Chief Secretary on Whatsapp group to call NDRF else floodwaters might enter into sensitive areas of Delhi. We also asked the DM. But our messages were ignored last night," Bharadwaj alleged.
Responding to the Delhi minister, the L-G said, "This is the time for teamwork, not blaming each other. I could say a lot of things too, but it's not necessary at the moment."
Bharadwaj said he requested Divisional Commissioner Ashwani Kumar too on Thursday night for the deployment of the NDRF, but in vain.