Kejriwal not invited for Airport Metro inauguration, sparks row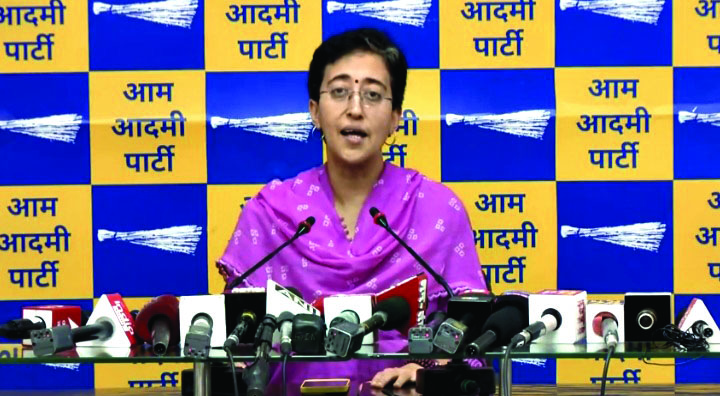 New Delhi: As Prime Minister Narendra Modi inaugurated the Delhi Airport Metro Express line from Dwarka Sector 21 to a new metro station 'YashoBhoomi Dwarka Sector 25, on Sunday, the event has sparked controversy as Chief Minister Arvind Kejriwal was not invited for the inauguration, despite the joint funding of Delhi Metro Rail Corporation (DMRC) by both the Central and Delhi governments.

Expressing the disappointment over this exclusion in a press conference on Sunday, Delhi Cabinet Minister Atishi highlighted the significance of the joint venture between the Central and Delhi governments in DMRC.
She stated, 'It is an extreme disappointment that he didn't feel it appropriate to invite the Delhi CM to the inauguration. I would like to mention here that the Delhi Metro is a joint venture of the Central and Delhi Governments and both invest 50-50 per cent in it.'
Atishi emphasised the collaborative efforts that have resulted in the splendid infrastructure of Delhi's metro system and stressed, 'A person who is among the world's top leaders and leads the government of the world's largest party couldn't even invite Delhi Chief Minister for the inauguration of a mere two-kilometre metro line.'
Sanjay Singh, an AAP MP, stated, 'Our PM has also abolished the minimum dignity of politics. Not inviting the CM of Delhi to the inauguration ceremony of the Delhi Metro, in which the Delhi government has invested 50 per cent of the money, exposes his malicious thinking.'
'What will Modi ji achieve by hating Arvind Kejriwal so much,' he questioned.
Atishi urged PM Modi to transcend party lines and consider his role as the guardian of state governments. She stated, 'I urge the Prime Minister that Delhi is the capital of the country. If we want to develop Delhi, then the central government and the Delhi government must work together.'
'Delhi government is ready to collaborate closely with the central government. However, it becomes the responsibility of a guardian to involve the Delhi government in decision-making. Because when Prime Minister Narendra Modi goes alone even for the inauguration of a two-kilometre metro line, it does not uphold the dignity of the PM's office,' Atishi added.