KCR backs Kejriwal in fight against Delhi ordinance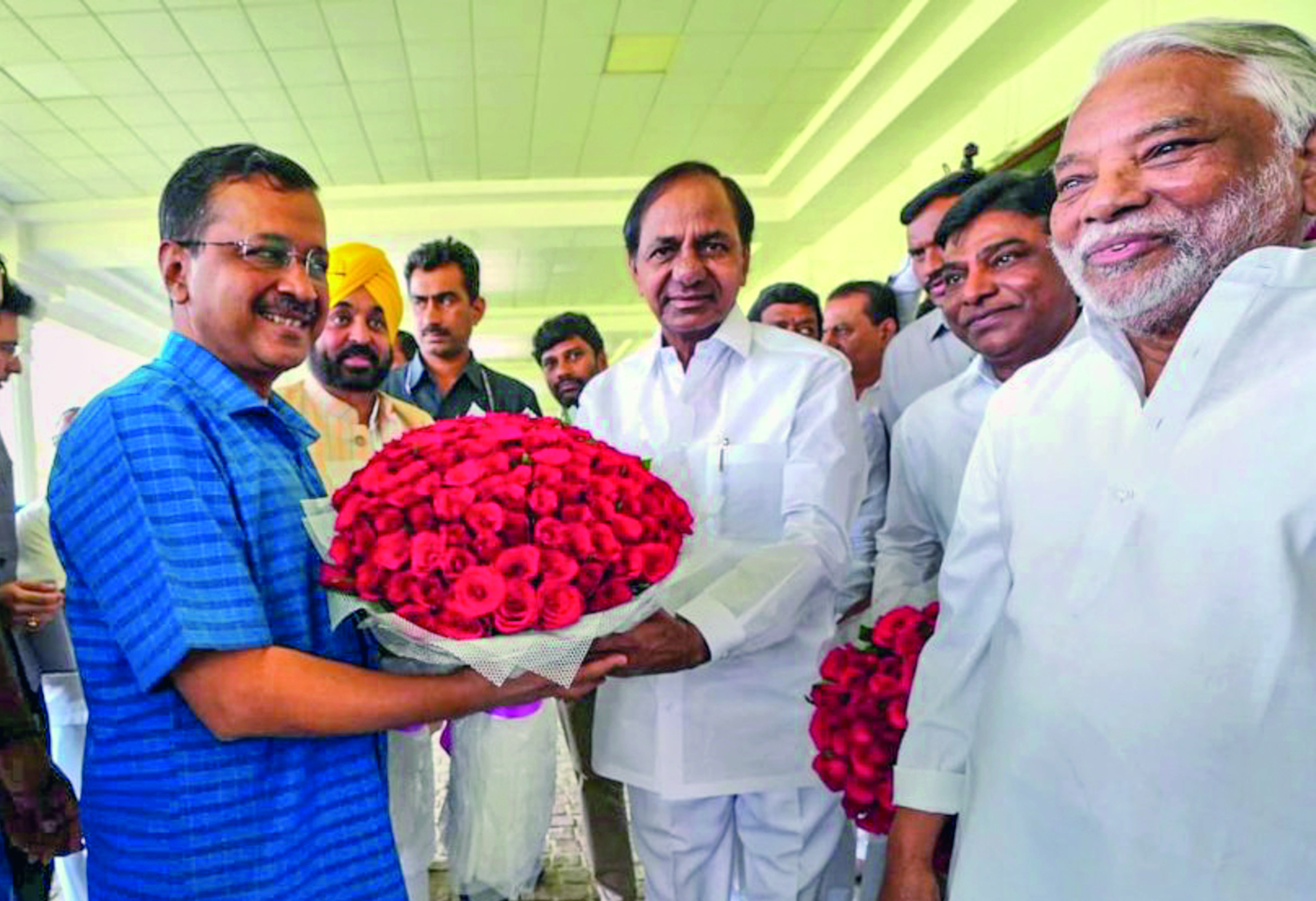 New Delhi/Hyderabad: Telangana Chief Minister K Chandrashekar Rao on Saturday demanded that the Centre withdraw its ordinance on control of Services in Delhi, after he held a meeting with the chief ministers of Delhi and Punjab.

He made the demand during a joint press conference with Arvind Kejriwal and Bhagwant Mann who called on him in Hyderabad to discuss the issue of the Centre's ordinance.
Rao alleged that the way the Centre issued the ordinance reminded one of the days of the Emergency.
"(PM) Narendra Modi ji and BJP leaders speak so vociferously against the Emergency. Exactly the same thing happened before the Emergency. Post Allahabad high court judgment, a Constitutional amendment was made nullifying that judgment," Rao said.
Claiming that the National Democratic Alliance government is on a path similar to the imposition of the Emergency by Indira Gandhi in 1975, he asked what is the difference between the Indira Gandhi regime then and the Centre now. "We demand that the Prime Minister withdraw the ordinance. Yourself. Or else, we will all support Arvind Kejriwal ji. We will stand by him. We will use all our strength in Lok Sabha and Rajya Sabha to defeat that ordinance and see to it that the ordinance is not passed," he said.
Rao alleged that the NDA government insulted the people of Delhi. The Centre is not allowing the elected government of Delhi to function and is not honouring the Supreme Court judgment, he alleged.
"Not honouring the Supreme Court's larger bench judgment means going towards Emergency," he said.
He felt that the "whole system" would support Kejriwal as it is a "question of the existence of democracy".
Kejriwal thanked Rao for his support. "People across the country ask where would people go for justice if the Prime Minister does not accept the Supreme Court's orders," the Delhi CM said.
"In a way, Prime Minister is challenging the people of Delhi that he would not let the government function, whatever (be) the government elected by the people," he claimed, accusing the Centre of meddling when a non-BJP government is elected by the people in any state.