Janki Devi Memorial College unveils grand culmination of G20 programme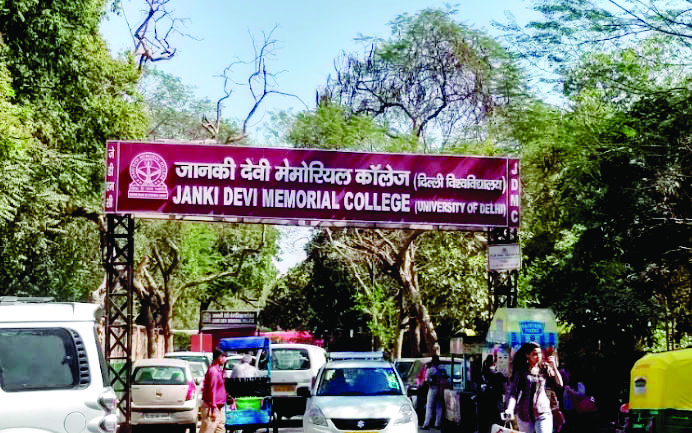 New Delhi: Janki Devi Memorial College organised its G20 programme, an engaging academic and cultural extravaganza.

Serving as the G20 Nodal College, Janki Devi Memorial College, in collaboration with Argentina, presented a series of meticulously curated events fostering academic and cultural synergy between the two nations.
The day commenced with an inaugural ceremony and enlightening academic sessions graced by esteemed dignitaries.
Dr. Vikas Gupta, Registrar; Anoop Lather, Chairperson, Steering Committee and Culture Council; and Prof. Ravinder Kumar, Dean, Culture Council, all from the University of Delhi, were the chief guests for the morning session.
The pivotal panel discussion titled 'Indo-Argentina Relations: The Road Ahead' was chaired by the former Ambassador, Rengaraj Viswanathan.
Joining the discourse were notable speakers Dr. Ash Narain Roy and Prof. Aparajit Chattopadhyay, adding depth and insights to the dialogue.
Following the academic discourse, the afternoon witnessed a cultural spectacle titled 'Celebrating Culture – India and Argentina.' The event showcased the vibrant amalgamation of Indian and Argentine art forms encompassing music, dance, and costumes.
The esteemed Prof. Yogesh Singh, Honorable Vice Chancellor of the University of Delhi, graced the occasion as the chief guest. Anoop Lather, Prof. Ravinder Kumar, and Anuradha Krishna, Chairperson, Governing Body, were the esteemed guests of honor.
The cultural program promised a unique choreography blending iconic Argentine dance forms like Tango, Gato, and Carnivale with Indian classical and folk-dance forms like Kathakali and Chhau.
The musical rendition resonated with rhythmic medleys of popular sports songs and anthems from Argentina alongside soulful folk
songs representing various regions of India.
Additionally, a mesmerising design and costume show, crafted by students, spotlighted the rich festivals, monuments, and celebrated female personalities from both nations.