Health Min Bharadwaj inspects govt dispensary in High Court premises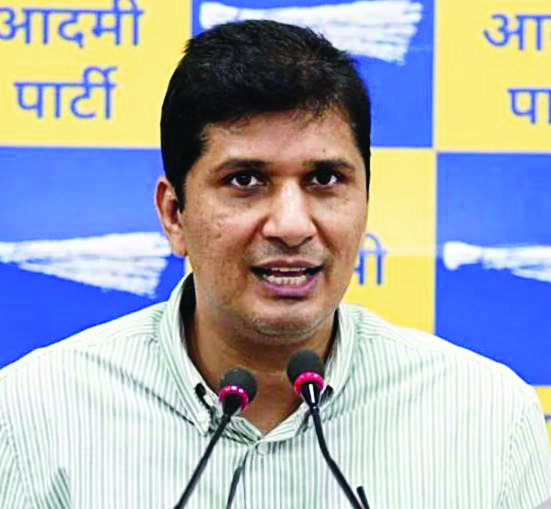 New Delhi: Delhi Health Minister Saurabh Bharadwaj, along with Justice Sanjeev Sachdeva, conducted a comprehensive assessment of the government dispensary situated within the Delhi High Court premises on Monday.

The visit aimed to ensure that the healthcare system in Delhi continues to meet the highest standards of excellence.
During the visit, Bharadwaj emphasised the government's dedication to delivering top-tier healthcare, stating, 'Our courts are also one of the four pillars of democracy, and it is our responsibility to take care of the health of lawyers and judges who run the justice system.' The Delhi government's consistent efforts in healthcare inspection were underscored, with Bharadwaj noting that "no negligence of any kind is tolerated in fulfilling this responsibility."
Justice Sanjeev Sachdeva praised the medical arrangements within the dispensary, emphasising that "almost all types of tests and treatments are provided free of cost."
He commended the staff's dedication, characterising their work as "commendable." The dispensary's physiotherapy facilities and immediate treatment for health-related issues also received plaudits.
However, High Court lawyers presented a list of requests during the inspection, including increasing staff numbers, replacing old dental equipment, deploying ENT specialists, upgrading medical machinery, introducing wax therapy in physiotherapy, initiating a 24-hour helpline, providing basic life support training, and implementing computerised OPD registration. Bharadwaj assured the legal community that these demands would be considered and addressed expeditiously, emphasising the government's commitment to enhancing healthcare services for lawyers and judges.
Highlighting the significance of the legal profession, Bhardwaj stated, 'The lawyers and judges of our country are running this justice system, due to which the citizens of the country can lead their lives without fear. Considering this, it is our responsibility to provide healthcare to all these lawyers and judges.'