Gzb: 3 children killed, 4 injured as two-storey house collapses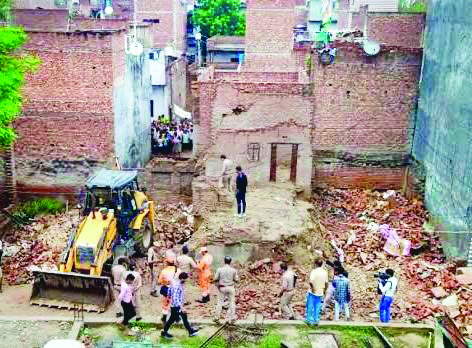 Ghaziabad: Three children lost their lives while four persons were injured on Saturday when a two-storey house collapsed following an explosion in the Loni area of this district, police said.

The incident took place around 11.30 am near Roopnagar colony here. The house owner Shakeel had rented it out to one Sharik who allegedly ran the illegal firecracker unit, DCP (Rural) Vivek Chand Yadav said.
On hearing a loud noise, the neighbours reached the house and began rescuing the trapped people and also informed the police, Yadav said.
The DCP said a team of the National Disaster Response Force (NDRF) brought out seven persons buried under the debris after four hours,
adding that a forensics team and a dog squad also reached the spot.
Mewis (45) and her sons Imran (16) and Fardeen (18), Shaista (40) and her daughters Aleena (12) and Alisha (10), and Norrie (18) were injured in the incident, police said.
Imran died on the spot, the other injured persons were rushed to north-east Delhi's GTB Hospital where Aleena and Alisha were declared dead, they said.
The four injured persons are undergoing treatment at the hospital, they added.
A family member of one of the victims said a cooking gas cylinder exploded while they were preparing food in the house at around 11.30 am, the police said.
On the other hand, the neighbours told the police that an illegal firecracker unit was being run at the house, they added.
The DCP said the forensic experts have taken soil samples of the debris and sent them for testing to ascertain whether the explosion took place while manufacturing firecrackers or due to a blast in a cooking gas cylinder.