Govt unveils 'Mission Mathematics' to combat fear of maths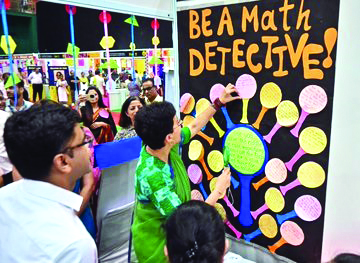 New Delhi: In a step towards eradicating the fear of mathematics among students, the Directorate of Education (DoE) under the Delhi government has unveiled "Mission Mathematics."

As part of this endeavour, Delhi Education Minister Atishi inaugurated the "Maths is Fun" exhibition at Thyagaraj Stadium, on Thursday showcasing innovative teaching-learning materials (TLM) created by Delhi government school teachers.
This initiative aims to revolutionise the teaching and learning of mathematics in the city's government schools.
The exhibition drew an impressive participation of approximately 9,800 teachers, including assistant teachers, TGTs, and PGTs, representing over 1,000 Delhi government schools.
Atishi commended the teachers for their dedication in making mathematics an enjoyable subject in classrooms, stating, "It is not very often that we celebrate the work of Maths teachers. This exhibition is a testament to their hard work."
The exhibition showcased a variety of TLMs, such as "Mathematics Games," "Learning with Fun," and "Maths in Seconds," designed to make math learning engaging and enjoyable. These materials help teachers elucidate complex topics, enriching students' understanding.
The Mathematics TLM Competition spanned various categories, from Primary to Senior Secondary, at School, Zonal, District, and State levels.
Atishi highlighted the incredible transformation of Delhi government schools in the past eight years, stating, "When AAP began its work on Delhi government schools 8 years ago, and we started visiting schools, there were numerous issues, including infrastructure, sanitation, broken benches-desks, dilapidated classrooms, etc that made it hard to even imagine when we would reach a stage where we would discuss teaching-learning materials."
She emphasised that Delhi's unique commitment to education sets it apart, noting that the city allocates 25 per cent of its budget to this critical sector. She praised the combined efforts of the government and teachers, which have instilled confidence in parents, leading them to choose Delhi government schools over private institutions, a trend not seen in other parts of the country. The minister also stressed the need to make math enjoyable, akin to singing and dancing, to combat math fear and absenteeism.