Govt 'proud to promote' India's ancient traditions at school-level: Min Atishi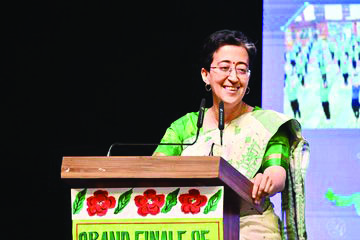 New Delhi: The Delhi government is "proud to promote" India's ancient traditions of yoga and meditation at the school level to encourage children to stay physically and mentally healthy, Education minister Atishi said on Tuesday.

Delhi government-run schools are celebrating the Happiness Curriculum's five years with a 'Happiness Saptah'.
On the second day of the event, yoga and meditation sessions were organised by the Directorate of Education for students at their respective schools.
The session, organised in collaboration with Ayudh —the youth wing of Amritanandamayi Math — witnessed thousands of children performing various yoga postures.
"Yoga and meditation are highly effective for children to cope with stress and improve focus in the current challenging times. After mindfulness, now the Delhi government will bring yoga into the daily lives of children. The curriculum has taught lakhs of Delhi government school children to be happy," Atishi said.