Gopal Rai unleashes scathing attack on police action against peaceful protests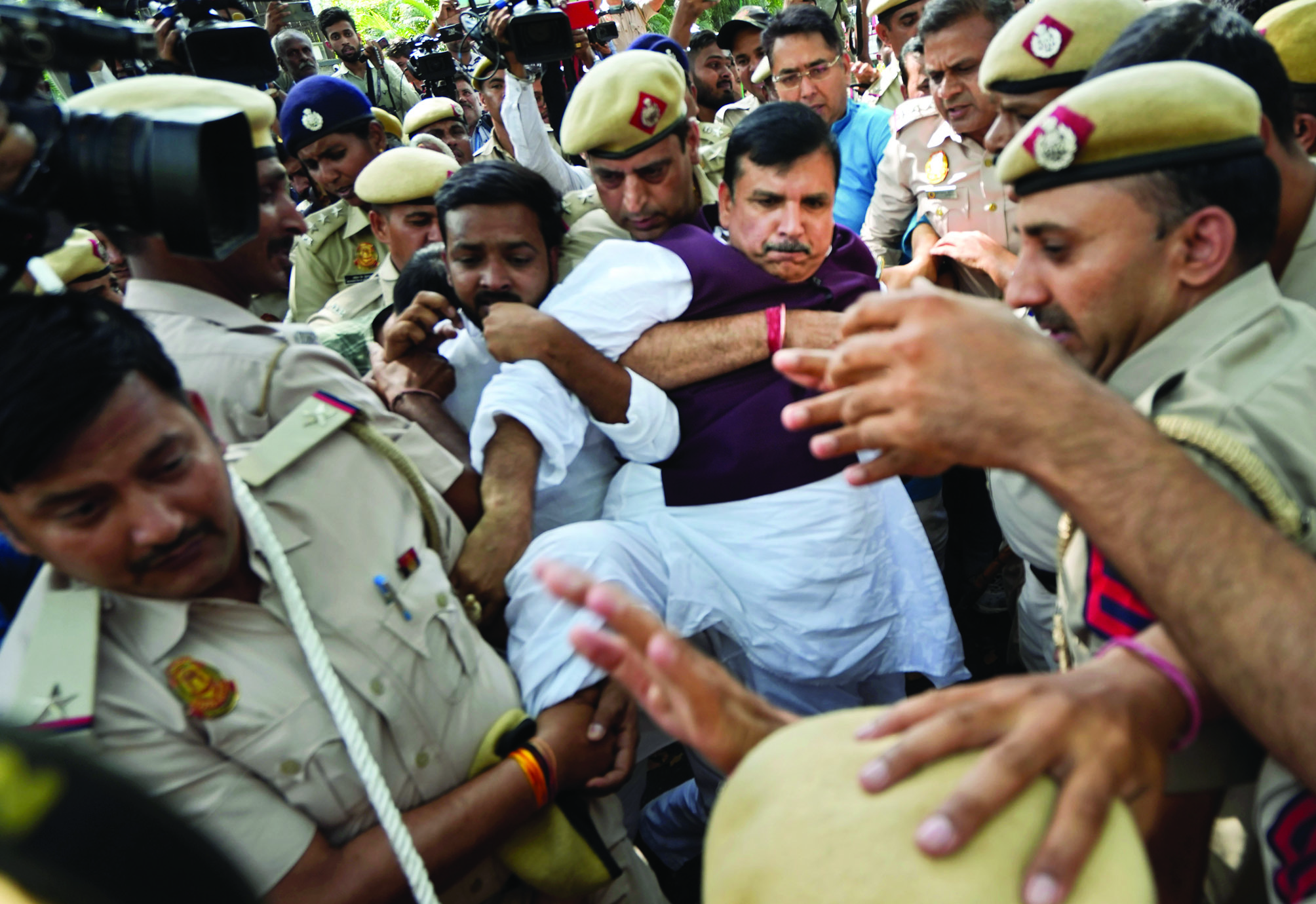 New Delhi: Aam Aadmi Party Cabinet minister and Delhi state unit chief Gopal Rai unleashed a scathing attack on the outrageous police action against peaceful protests by AAP leaders and party workers on Sunday morning. 32 MLAs and 70 councillors of Delhi, along with 20 MLAs from Punjab, have been arrested from different parts of the city.

Rai condemned Prime Minister Narendra Modi, the Bharatiya Janata Party (BJP), and the CBI for summoning Chief Minister Chief
Minister and AAP convener Arvind Kejriwal in the excise policy case.
The detainees included Rajya Sabha MPs Sanjay Singh and Raghav Chadha, Delhi ministers Saurabh Bharadwaj, Atishi and Kailash Gahlot, AAP spokesperson Adil Ahmad Khan, its general secretary Pankaj Gupta and some ministers in the Punjab government.
Punjab Chief Minister Bhagwant Mann, who also joined the sit-in on Archbishop Road, had left the spot before the AAP leaders' detention
Rai highlighted the widespread peaceful protests held across Delhi against the CBI summons and slammed the police for their heavy-handed tactics of detaining and threatening people.
He said that this reprehensible behaviour of the central government must not go unchallenged.
Rai said, "I cannot help but express my disgust at the brazen conspiracy by Prime Minister Narendra Modi and his BJP government to topple the democratically elected Chief Minister of Delhi and national convenor of the Aam Aadmi Party, Arvind Kejriwal. His summoning by the CBI for questioning is a clear indication of their sinister agenda. It is apparent that the Prime Minister is intoxicated by his own power and is bent on establishing his dictatorship over the country. The Aam Aadmi Party, under Arvind Kejriwal's leadership, has become a beacon of hope for the people of India, including students, youth, labourers, farmers, women, and many others. The Modi government is determined to extinguish this ray of hope at any cost, but we will not stand idly by and watch as they trample on our democratic values."
Rai further added, "The people of Delhi have risen up in support of their leader, Arvind Kejriwal, and against the despotic actions of Prime Minister Narendra Modi. In a brazen display of authoritarianism, police conducted early morning raids across Delhi and had been terrorising citizens with threatening phone calls through the night. Shockingly, we have received reports that, as of 1 PM on Sunday, 32 MLAs and 70 councillors of Delhi had been arrested in different parts of the city. In addition, 20 MLAs from Punjab who were coming to Delhi with CM Bhagwant Mann to show their support for Arvind Kejriwal were arrested at the Delhi border. This blatant abuse of power will not
be tolerated by the people of Delhi, and the overwhelming outcry against it can be heard across the city."
Rai condemned these arrests and termed them the BJP government's "blatant attack on democracy."
He further revealed, "Not just AAP leaders but common people from Delhi have also been arrested at several protest locations and taken to various police stations."
He shared a list of the locations and the number of people arrested from each place, according to the information received by the AAP headquarters by 1 PM on Sunday.
The AAP leader concluded the press conference by urging people to unite and raise their voices against this injustice. He said, "The huge gatherings at the protests today prove the support of the people of Delhi for their Chief Minister Arvind Kejriwal. Despite the never-ending conspiracies of the Prime Minister and his BJP stooges, the public's support for our leader remains steadfast and unwavering."
Meanwhile, the AAP held an "emergency meeting" of its office-bearers to decide the party's next course of action after several top leaders were detained. AAP's Delhi unit convenor Gopal Rai chaired the meeting, which included Mayor Shelly Oberoi, Deputy Mayor Aaley Mohammad Iqbal, the party's national secretary Pankaj Gupta and leader Jasmine Shah.
About 1,350 people, including AAP leaders, who were detained have been released, the police said. While being released from the police station, the AAP leaders raised slogans against PM Narendra Modi.