G20 cleanup: Authorities demolish over 55 shanties near Pragati Maidan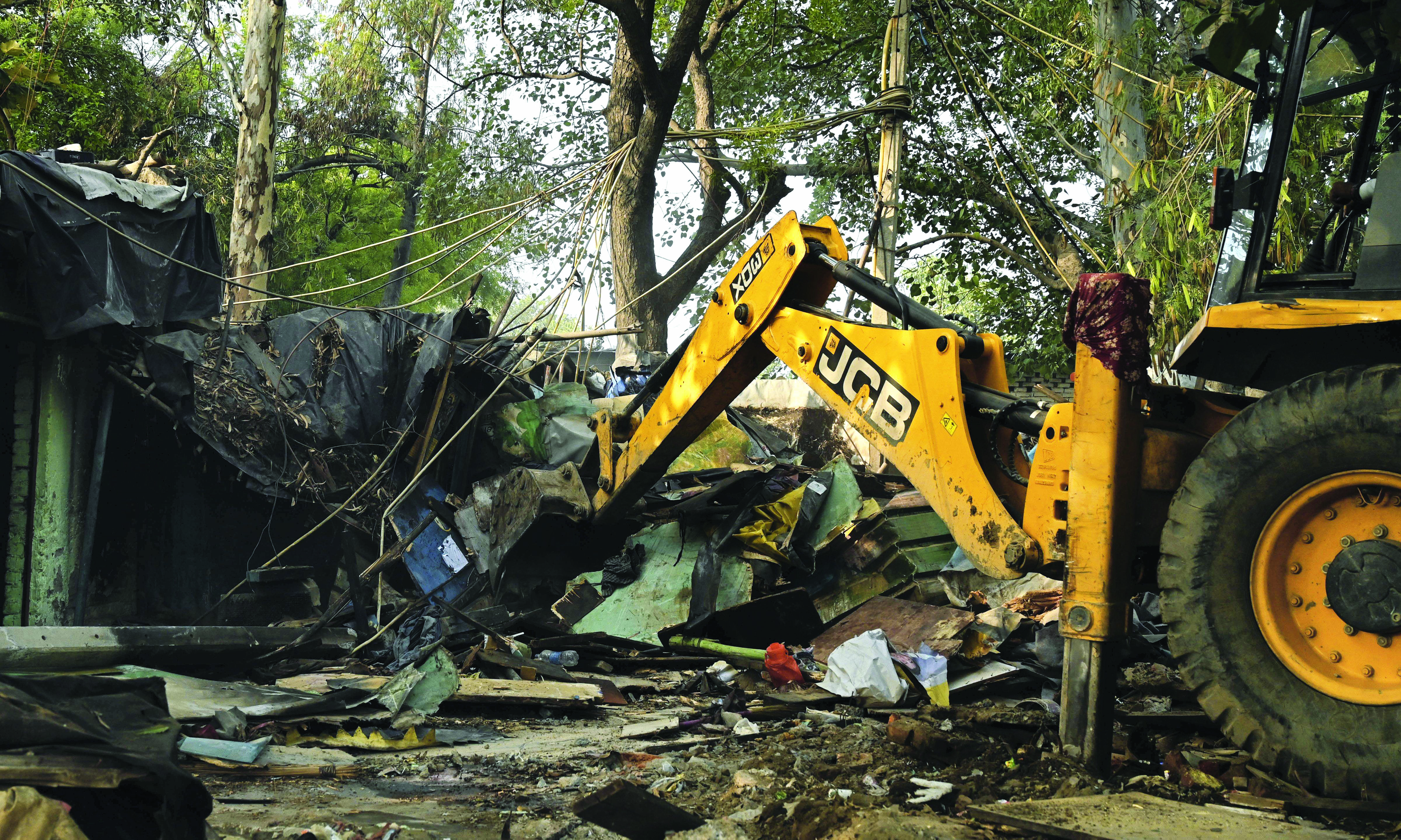 New Delhi: Chaos reigned at a slum cluster near Pragati Maidan when the authorities along with police demolished over 55 shanties Thursday morning as part of an anti-encroachment drive, displacing more than 40 families.

Residents say they woke up to the rumble of JCBs around 4 am and were shocked to see people preparing to take their houses down. Authorities have been conducting anti-encroachment drives across the national capital ahead of the G20 summit to be held in the city later this year. Security personnel were deployed on Bhairon Marg to prevent any confrontation, they said.
A makeshift school which was being run by an NGO for the last nine years was also demolished in the drive.
"Around 30 students studied in the school. Children of slum dwellers use to attend classes here after their school hours. Children from 5 to 16 years old used to regularly visit the school where they were also trained in arts and skill development," said the residents. They said the notice they were issued did not mention school demolition.
The slum dwellers who were seen sifting through the rubble to salvage any belongings said they had been asking the government to allot them an alternate place somewhere within 5 km radius.
"When they want our votes, they come to us and talk about big things but now when we are displaced and have nowhere to go, they couldn't care less...," said angry residents. "We were sleeping in our shanties. It was around 4 am, when these people came with JCB machines and other equipment to demolish our homes. We pleaded with them to not demolish our homes, but they said they had the legal right to do so We lost all our belongings, our furniture, vessels, books of our children we lost it all," said another resident.
The slum dwellers say they were given a notice a few months ago about the demolition drive and they were fighting the decision in the court.
Their hope that they would not be displaced from their homes where they had been living for years were dashed on Thursday.
"Where will we go now? We are out on the street with nowhere to go. Even though we got a notice earlier, we were not told that the authorities would suddenly appear at 4 am in the morning and start demolishing our homes...," said one of the residents, who also lost her shanty in the drive.
The residents claimed that the authorities told them to go away from the area since their slum cluster was a "dirt" and it would affect the image of Pradati Maidan. However, the police said they had been living here illegally for many years.
A PWD official said, "The drive was carried out by the Special Task Force and it was not a drive by our department. Our officials were present on the spot to assist in the drive. It was carried out on the instructions of the court."
The Delhi High Court had last month refused to interfere with the demolition of jhuggis near Pragati Maidan and granted a month's time to its occupants to vacate the land.
Justice Prathiba M Singh, who was hearing petitions by residents following a demolition notice issued earlier this year, said authorities may take action for demolition after May 31 and said the petitioners will be provided alternative accommodation in a shelter home.
The court had noted that the jhuggis, which were on the side of Bhairon Marg, were not part of a "notified cluster" by the Delhi Urban Shelter Improvement Board (DUSIB) and therefore, no rehabilitation can be directed. It had also noted that the structures in question were also at "considerable distance" from the recognised jhuggi cluster in the area.