E-rickshaw laden with firecrackers explodes in Gr Noida, one dead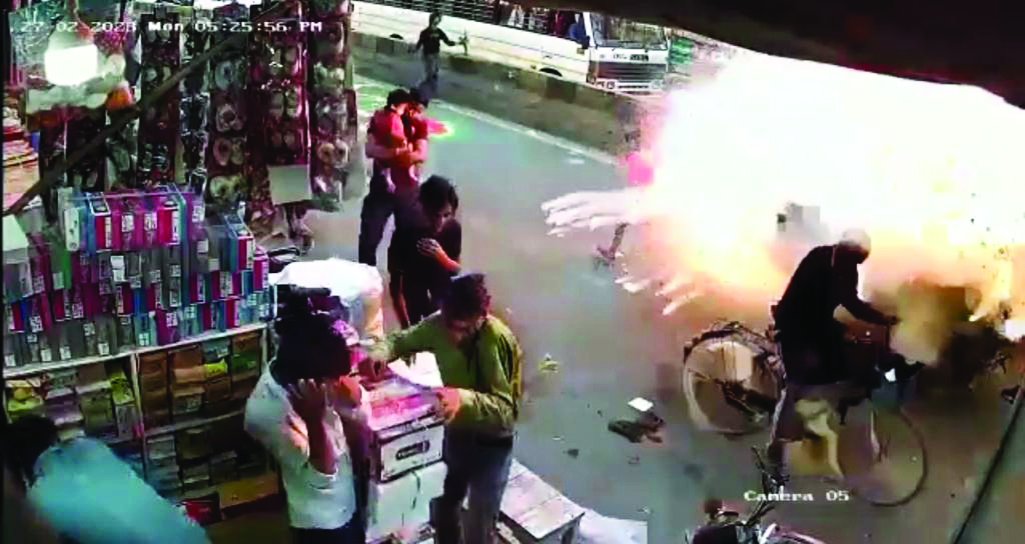 noida: At least one person has been killed while two others are injured after an e-rickshaw loaded with firecrackers exploded at GT road in Dadri of Greater Noida on Monday evening. The whole incident was captured on CCTV camera installed at a nearby shop which is now viral on social media.

According to police, the incident took place during a procession of the Jagannath Shobha Yatra where firecrackers were being burst and were loaded in an e-rickshaw. Suddenly, there was an explosion and people standing nearby were injured in the blaze. In the viral clip, cartons of firecrackers were seen loaded in the e-rickshaw and people can be seen standing in front of a shop in a busy market area. In just a few seconds, an explosion occurred in the cartons full of firecrackers kept on the e-rickshaw and people started running calling for help.
Locals rushed for the rescue and police was informed. The rescue work was performed and water cannons were pressed into service to douse the flames.
Ashok Kumar Singh, Additional Deputy Commissioner of Police, Greater Noida said that the injured were admitted to hospital where one person has succumbed to injury. "Following the explosion, victims were rushed to nearby private hospital and three persons were referred to GB Pant hospital in New Delhi where one of them succumbed on Tuesday morning. The other two are admitted to hospital for treatment," Singh said. Police officials informed that the deceased has been identified as Salman (28), who was assigned for bursting fire crackers.
"As of now, we have not received any compliant into the matter, however, investigations are underway and appropriate actions are being taken. It has been found that some people were bursting firecrackers on the occasion when one of the firecrackers fell on the e-rickshaw moving forward, in which other fireworks were kept, due to which all of them were set on fire," the ADCP added.