DU replaces paper on Gandhi with one on Savarkar in BA (Hons) Pol Sc syllabus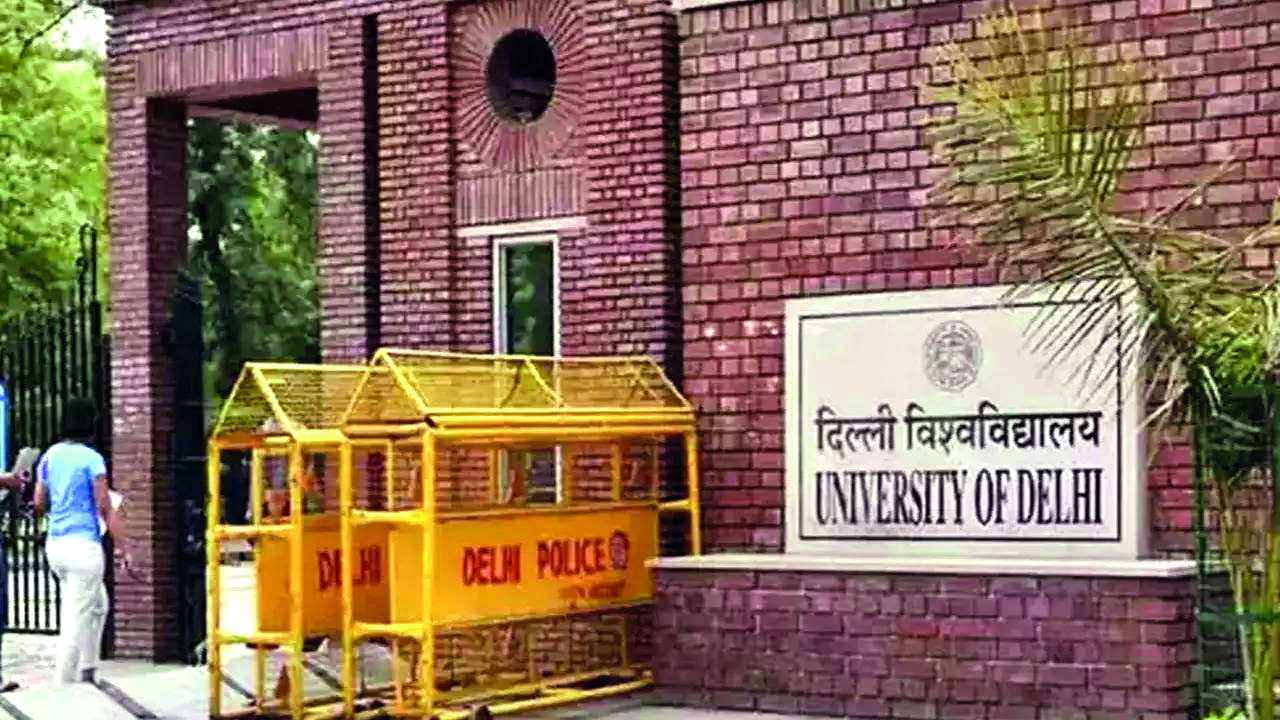 New Delhi: Delhi University has replaced a paper on Mahatma Gandhi in semester V of BA (Hons) political science syllabus with one on Hindutva ideologue V D Savarkar, teachers claimed on Saturday.
The paper on Mahatma Gandhi will now be taught in semester VII, they said, adding this would mean students opting for a three-year graduation course instead of a four-year programme will not study Gandhi.
A motion in this regard was passed at the Academic Council meeting on Friday.
The move has drawn sharp flak from a section of teachers, who termed it a saffronisation of education and an attempt to compare Gandhi and Savarkar.
Now, the final call will be taken by the Executive Council, the highest decision making body of DU.
Alok Pandey, an Academic Council member who attended Friday's meeting, said: "Earlier, a paper on Gandhi was there in semester V and in semester VI a paper on Ambedkar. Now, they have introduced a paper on Savarkar. We have no problem with the introduction of Savarkar but they have done it at the cost of Gandhi. They have moved the paper on Gandhi from semester V to VII."
"It seems they are planning to remove the paper on Gandhi from studies as students who will opt for a three-year programme will not study this paper," Pandey said.
Pandey, who was also a part of the standing committee where the proposal was discussed, said he agreed that they will teach about Gandhi in semester V, Savarkar in VI and Ambedkar in VII as per their age chronology.
"I opposed the proposal in the standing committee and they agreed that the paper on Gandhi will not be removed from semester V... but now in the Academic Council, they brought the resolution which was not agreed in the standing committee meeting," he said.
Opposing the move, Rajesh Jha, a former member of the Executive Council, said students should be exposed to Gandhi in initial semesters in order to develop critical thinking.
"Gandhian ideas are inclusive and reflect the collective consciousness of our freedom struggle. His philosophy stands for good politics as well as good individuals. Hence, the students should be exposed to Gandhi in initial semesters in order to develop critical thinking," Jha said.
"Teaching Gandhi earlier than Savarkar would have prepared students to understand the latter's thought in broader and more balanced perspective," he added.
As per the syllabus, 'Understanding Gandhi' was a paper in semester V. The course aims to acquaint the students with the social and political thought of Gandhi. "The course seeks to meet two essential objectives: one, to acquaint the students with the art of reading texts, to enable them to grasp its conceptual and argumentative structure and to help them acquire the skills to locate the texts in a broader intellectual and socio-historical context," the course objective said. The themes in Gandhian thought that are chosen for close reading are "particularly relevant to our times", it said.