DU reconstitutes panel to strengthen safety of female students, employees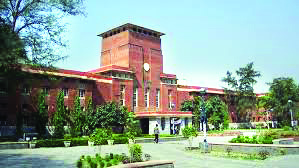 New Delhi: In the wake of incidents compromising the safety of students in all-women colleges, the Delhi University has reconstituted a committee to strengthen the safety and security of female students and employees on the campus.

The six-member committee will be headed by university proctor Rajni Abbi.
Abbi said the committee has been reconstituted after harassment incidents were reported during cultural festivals at colleges.
"The university felt the need to have a specific committee to look into the issues of female safety. The committee that was formed after these incidents created generalised guidelines. But it was not specific to the safety of girl students," she said.
As per a notification issued on May 8, the university said, "The competent authority of the university has re-constituted a committee on women safety and security to strengthen the safety and security of female students and employees of the university."
Besides Abbi, the other members of the committee are Law Centre II's Vageshwari Deswal (member secretary) and Geeta Sahare (joint proctor), SRCC's Malika Kumar, assistant registrar Girish Kumar and advocate Niyati Sharma.
Last month, the varsity issued a 17-point advisory to colleges and departments for holding programmes, events and fests in which it was enunciated that the responsibility for events will lie with colleges, and department authorities and the college concerned will be solely responsible for any "untoward incident".
The guidelines were prepared in the wake of several all-women colleges witnessing harassment incidents during cultural festivals.
Students of the varsity's Indraprastha College for Women (IPCW) alleged that they were harassed by "unknown" men during a fest on March 28. The incident led to widespread protests by students who demanded the resignation of the college
principal.
A similar incident in Miranda House was reported in October 2022 where several men allegedly climbed the college walls and gates to witness an open Diwali fest on the campus, and indulged in "cat-calling and sexist sloganeering".