Delhiites get a break from heat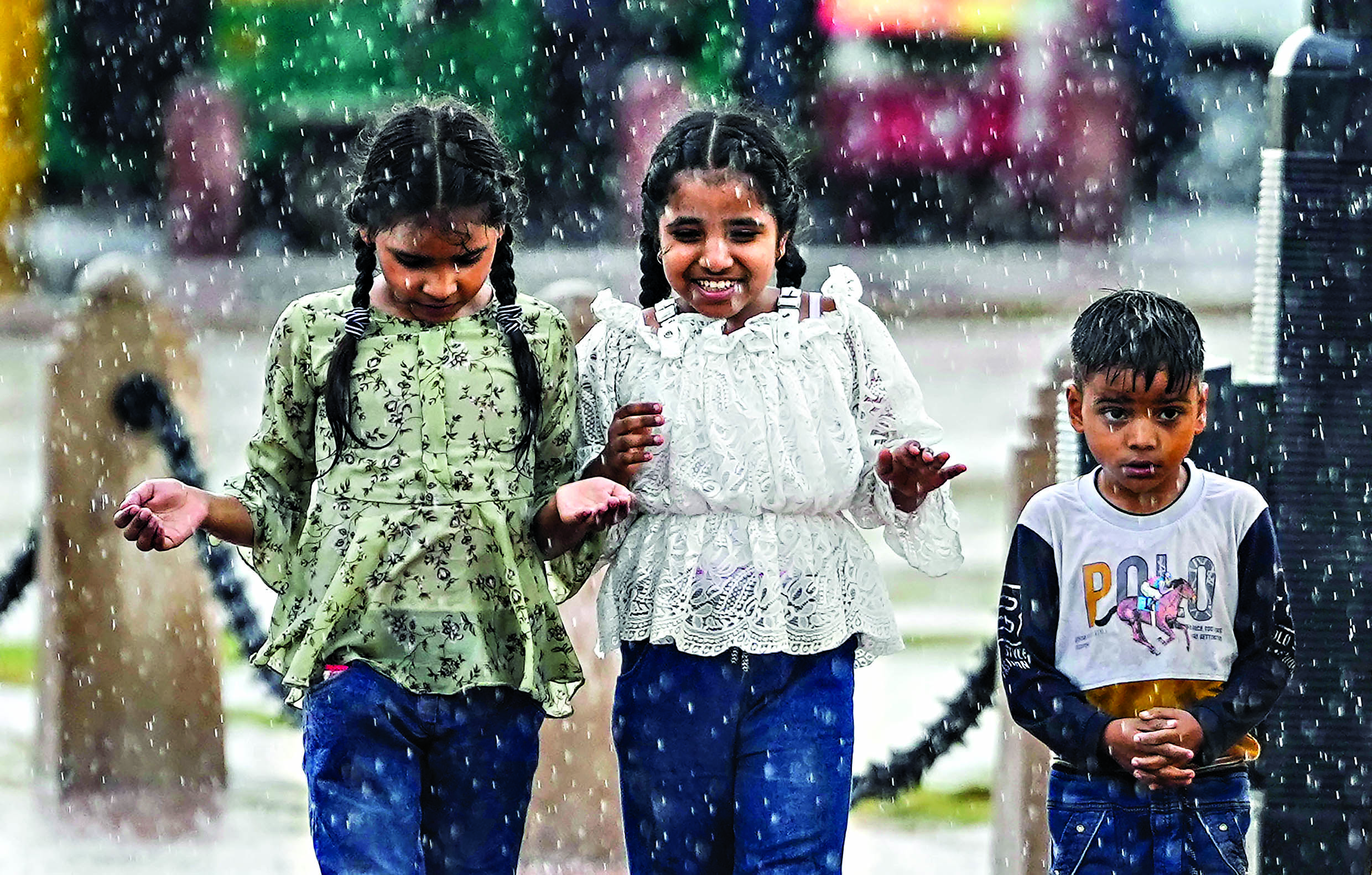 New Delhi: A sprightly shower accompanied by gusts of wind provided a much-needed succour to the national Capital which had been reeling under sweltering heat for days.

The pre-monsoon rain came under the influence of Cyclone Biparjoy and a western disturbance active over the northwest Himalayan region, inundating low-lying areas of the city and disrupting traffic flow.
After churning across the Arabian Sea for more than 10 days, Biparjoy made landfall near Jakhau Port in Gujarat on Thursday.
However mild, the rain left several areas submerged in water and traffic out of gear on many stretches in Delhi.
Traffic was affected on the NH-48 IGI Airport stretch due to water-logging near the Rangpuri intersection and also on Captain Gaur Marg on the stretch between Modi Mill and Lajpat Nagar after an uprooted tree obstructed the way, said Delhi Traffic Police.
Delhi recorded a minimum temperature of 27.9 degrees Celsius on Friday, while the maximum settled a 38.6 degrees Celsius, according to the India Meteorological Department (IMD).
The humidity in the capital oscillated between 87 and 42 per cent
At 7 pm, Delhi's Air Quality Index (AQI) was recorded in the 'moderate' category with a reading of 108, according to Central Pollution Control Board data.
An AQI between zero and 50 is considered 'good', 51 and 100 'satisfactory', 101 and 200 'moderate', 201 and 300 'poor', 301 and 400 'very poor', and 401 and 500 'severe'.
Kuldeep Srivastava, the head of the IMD's regional forecasting centre, said Delhi witnessed light rainfall under the influence of the cyclone, a fresh western disturbance, and the moisture-laden southwesterly winds coming from the Arabian Sea via Rajasthan and south Haryana.
"The rise in maximum temperature in the past few days along with moist southwesterly winds and the western disturbance will lead to rain
activity in northwest India," Srivastava said.
The IMD had last month predicted a normal to below normal monsoon in northwest India, which could mean drier and hotter days in Delhi in the coming days.
Normal to above-normal maximum temperatures are usually recorded across most parts of the country in June, except in the extreme north and some parts of the southern peninsular region, it said.
The monsoon hit the Indian mainland in Kerala on June 8 a week after the usual date of June 1, said the IMD.
The IMD had earlier predicted a delay of four days in the monsoon onset over Kerala. However, Cyclone Biparjoy in the Arabian Sea delayed it further.
Research shows a delay in the monsoon onset over Kerala (MOK) does not necessarily mean a delay in the monsoon onset over northwest India.
The rain-bearing system usually reaches Delhi by June 27.