Delhi WCD minister inspects centralised Anganwadi kitchen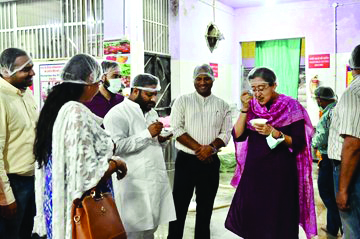 New Delhi: Delhi Women and Child Development minister Atishi inspected a centralised Anganwadi kitchen in Kondli on Monday. The innovative approach is part of the Delhi government's commitment to providing nourishing meals to underprivileged women and children across the city.

During the visit, Atishi stressed the significance of early-age nutrition for holistic growth during crucial pregnancy, childbirth, and development stages. She tasted the food during her inspection and advocated updating the menu based on beneficiaries' feedback.
"The Kejriwal government is committed to providing nutritious meals to every needy woman and child in Delhi," she said. The government operates 11 centralised kitchens, producing meals and Take-Home Ration (THR) for over 8 lakh beneficiaries daily.
The Kondli-Gharoli kitchen employs cutting-edge machinery and advanced processes. Divided into three sections, it handles everything
from grain cleaning to packaging using fully automated machines, ensuring 'Zero Human Touch'.
The minister revealed that this approach significantly enhances nutrition for children aged six months to 3 years, pregnant women, and lactating mothers visiting Delhi's Anganwadi centres.
Through the Kondli kitchen, the government serves over 43,000 children and pregnant women across 604 Anganwadi centres in east Delhi. The Take-Home Ration includes packed uncooked porridge and khichdi premixes, catering to lactating mothers and young children.
The kitchen's stringent food quality checks, adherence to cleanliness regulations, and use of modern technology demonstrate the government's commitment to providing nutritious and safe meals.