Delhi Traffic Police organises Raahgiri programme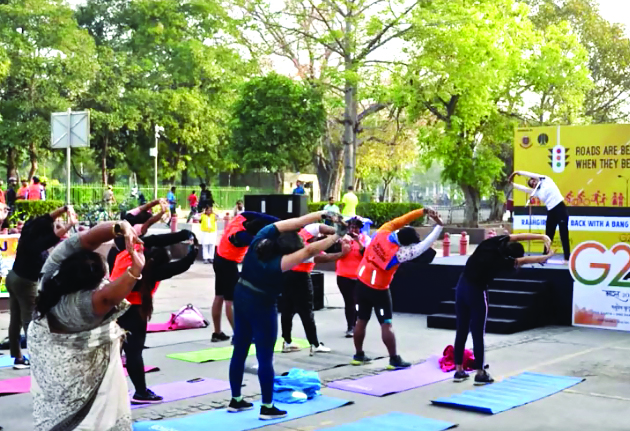 New Delhi: Delhi Traffic Police organised a Raahgiri programme on Sunday at Connaught Place Inner Circle in alignment with the G20 goal of creating sustainable and livable cities with a focus on sustainable mobility, officials said. The programme was organised in association with Raahgiri Foundation.

Special Commissioner of Police (Traffic) SS Yadav flagged off a Yulu Bike rally that was organised as a symbolic gesture to promote the safety of pedestrians on roads, and creating sustainable and livable cities.
A painting competition for school students was also organised by Delhi Traffic Police. In addition to that there was a lecture on the importance of golden hour and a demonstration on first-aid and CPR administration, they said.
According to officials, other units of Delhi Police also showcased demonstration on self-defence techniques by personnel from the Special Police Unit for Women and Children (SPUWAC), orchestra performance by a team of IV battalion Delhi Armed Police, demo by Dog squad of Crime Branch.
Some other attractions that featured at the event include —Help-desk set up and a mobile exhibition van showcasing road safety measures by Road Safety Cell of Delhi Traffic Police; a pledge wall and a selfie-
stand to promote safe two-wheeler riding. "Raahgiri foundation also organised some interesting activities for the promotion of healthy lifestyle such as cycling, skating, zumba and yoga," the official added. Ankita Chakraborty, Secretary, NDMC and other senior officers of Delhi Traffic Police participated in the event that was organised between 7 am to 10 am.