Delhi to have 1,500 electric buses by end of 2023: Min Gahlot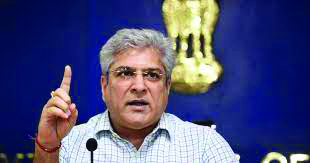 New delhi: Transport minister Kailash Gahlot on Tuesday conducted a thorough inspection of the ongoing construction work at Savda Ghevra, where

a fully electric bus depot is being built.
With an estimated cost of approximately Rs 60 crore, the depot is set to accommodate the forthcoming fleet of electric buses in Delhi. The construction expenses amount to nearly Rs 30 crore, while the electrification costs shall be Rs 30.11 crore.
Equipped with charging facilities, this depot which is spread across 7.8 acres will have the capacity to park 200 electric buses, marking a significant step towards creating a modern, efficient, and sustainable public transportation system.
During the inspection, Transport minister Kailash Gahlot emphasised the urgency of expediting the construction work, underscoring the need for timely completion.
In a statement, he said "Delhi will soon have the first lot of the planned 1,500 electric buses in the city and all the buses are scheduled to arrive by end of this year. 3 bus depots namely Rajghat, Mundela kalan and Rohini Sec 37 are already operational with electric buses. 9 more depots have been electrified and are ready to be operational and waiting for new electric buses."
As per Gahlot, Savda Ghevra is one of the 9 bus depots being constructed by Delhi government and then said, "Reviewing the progress at the site, I had an opportunity to discuss with the officials working on ground and directed them to expedite the work so we are fully ready and welcome the arrival of 1500 new Electric buses. Under the leadership of Chief Minister Arvind Kejriwal, Delhi is committed to give world class public transportation to its citizens which is also a step towards Saaf Sundar and Adhunik Dilli."