Delhi L-G Saxena inaugurates musical fountain at 'Baansera'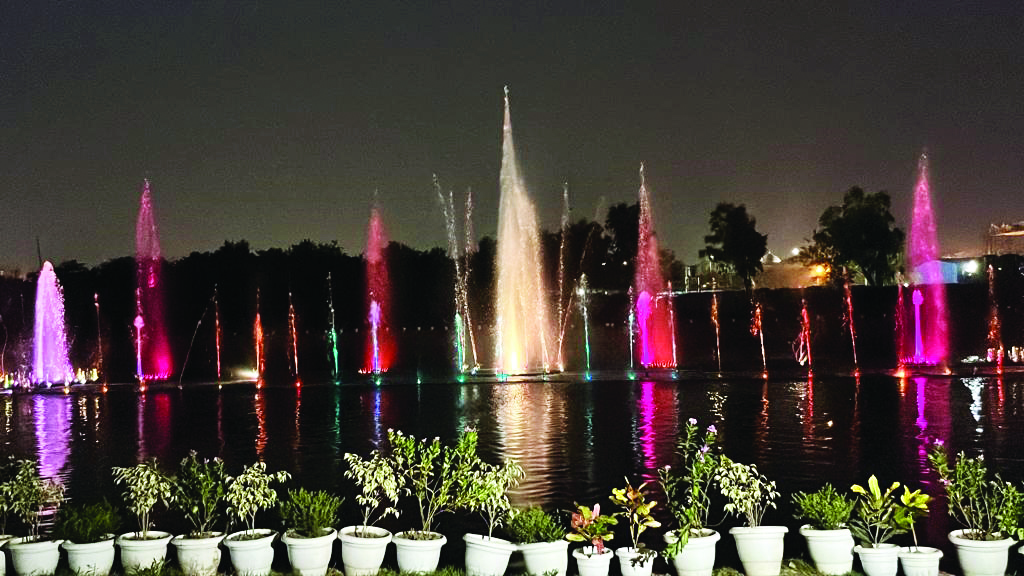 New Delhi: A musical fountain equipped with dynamic LED lighting system at Delhi's first bamboo theme park was inaugurated on Friday by Lt Governor V K Saxena who said a convention hall that can hold summit-level meetings will also come up in 'Baansera'.

A restaurant and other public convenience structures are also being built on its sprawling campus, which will be completed by next month, the Delhi Lt Governor (L-G) told reporters after unveiling a plaque at the upcoming park — 'Baansera' — to mark the inauguration of the fountain. One year ago, this site was a place of construction and demolition (C&D) waste where it was even difficult to come, Saxena said, adding it has now been transformed.
"Around 28 acres (of land) was reclaimed, and nearly 30,000 different species of bamboo have been planted here. The DDA (Delhi Development Authority) has made it in six to seven months, and now it has become a place where big events can be hosted," he said.
A convention hall is also being built on the campus of 'Baansera', and "construction will begin in October, where summit-level meetings can also be hosted, it will be made of that level," he added. "This space you see, Yamuna flowing behind, it is a very beautiful place, and the people of Delhi will find relaxation here," the L-G said.
The park, a first-of-its-kind initiative in the city, has been named 'Baansera' as derived from the Hindi word 'Basera' meaning abode. Saxena had laid its foundation stone in August last year. The L-G after inaugurating the fountain enjoyed a show of musical fountain, as water jets danced to the tunes of songs such as 'Rang de Basanti'.
The fountain has been set up in a revived water body spread over 2 ha. The fountains' grid is 90 m long and 10 m wide and is covered by nine different water features. The central column can spray water jets up to a height of 15 m, officials said.
Funding for the fountain was provided by the Delhi Metro Rail Corporation under its corporate social responsibility programme, the DDA said.
Delhi Chief Secretary Naresh Kumar, Delhi Municipal Commissioner Gyanesh Bharti, DMRC chief Vikas Kumar, DDA Vice Chairman Subhasish Panda and many other senior officials of the DDA were among those present on the occasion. The restaurant and public conveniences being built will be completed by next month. 'Baansera' will be a place where 1,000-2,000 people can come and sit, eat and enjoy, Saxena said.
To begin with, two musical fountain shows — at 6:30 PM and 7:30 PM — will be held from Tuesday to Sunday every week on paying a nominal fee, the DDA said in a statement, adding that entry will be free for children, aged up
to 10, and schoolchildren accompanied by parents, teachers or guardians.