Delhi HC refuses to interfere with Asian Games trials exemption to wrestlers Vinesh & Bajrang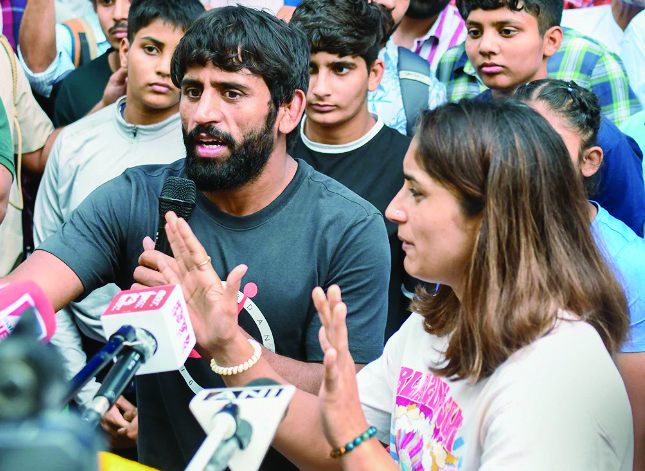 New Delhi: The Delhi High Court Saturday refused to interfere with the exemption granted to top wrestlers Vinesh Phogat and Bajrang Punia from the Asian Games trials and dismissed a petition by two well-known grapplers against their direct entry into the Indian squad for the tournament.

Under-20 world champion Antim Panghal and Under-23 Asian champion Sujeet Kalkal had moved the court challenging the special treatment to Phogat and Punia.
Justice Subramonium Prasad said although the petitioners themselves have also "excelled" in the field of wrestling, the court was not inclined to sit in appeal over the decision taken by an expert committee which unanimously decided that being "elite athletes", Phogat and Punia should be exempted from trials in order to prevent injury to them.
Both Punia and Phogat, the court observed, are "world renowned athletes in the sport of wrestling" and feature in the "World Top 10" rankings, and the decision to grant them direct entry cannot be said to be arbitrary.
"The Ad-hoc Committee of the WFI, which comprises experts in the field of wrestling, have unanimously decided that Respondents No.3 (Punia) & 4 (Phogat), who are elite athletes, should be exempted from selection trials in order to prevent them from suffering any injury in the selection process," the court said.
"The Asian Games are to begin in about two months' time and in case injury is caused to the elite athletes, who are medal probables, the time for recovery is extremely low and, therefore, the decision taken by the Committee to exempt Respondents No.3 & 4 from selection trials in order to ensure that they are not to exposed to injuries during trials cannot be said to be arbitrary or capricious or perverse," the court ruled.
Phogat (53kg) and Punia (65kg) were given direct entry into the Indian squad for the Asian Games by the Indian Olympic Association's ad-hoc committee on Tuesday, while other wrestlers will have to earn their places in the Indian squad through selection trials on July 22 and 23.
Panghal and Kalkal moved the high court on July 19 challenging the "arbitrary" exemption and demanded a fair selection process for the quadrennial showpiece event.
Senior advocate Arunabh Chowdhury appeared for the ad-hoc panel running the Wrestling Federation of India (WFI) affairs and said a meeting of the four members of the ad-hoc committee and two chief coaches was held on July 12, and all of them unanimously agreed to keep two weight categories reserved for the elite athletes.
Advocate Hrishikesh Baruah, appearing for the petitioners, assailed the selection of Phogat and Punia on several grounds, including that the general body of WFI had withdrawn the provision for exempting sportspersons in August 2022.