Delhi govt's 2nd Van Mahotsav begins at Dwarka Mela Ground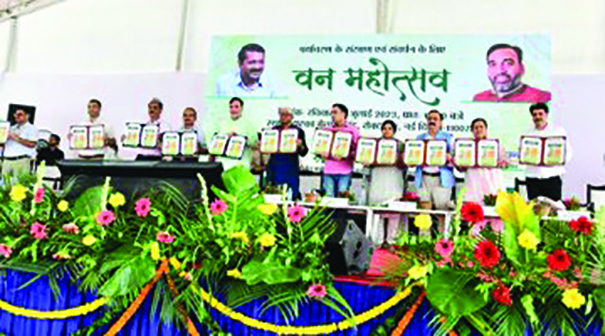 New Delhi: Marking a significant step towards enhancing Delhi's green cover and combating pollution, the Environment and Forest minister Gopal Rai on Sunday inaugurated the second 'Van Mahotsav' programme at Dwarka Mela Ground in West Delhi Lok Sabha constituency.

During the programme, the minister unveiled the Green Action Plan Portal, which aims to keep Delhiites informed about the progress of tree plantation efforts across the city.
While talking about the newly launched portal, Rai announced that the plan aims to involve citizens actively in the tree plantation campaign. It provides monthly updates on the progress of tree plantations along with geo-locations and photographs of the plantation sites. Citizens can also provide feedback through the portal, making it a collaborative effort towards a greener Delhi.
"The portal will incorporate third-party audit reports to monitor the growth and survival rate of the newly planted saplings. This step ensures accountability and ensures the successful implementation of the Green Action Plan,"
he added.
Rai also stated that the Delhi government has set a target of planting more than 52 lakh saplings this year, with an additional 50 lakh plants and shrubs to be planted by the New Delhi Municipal Council (NDMC). To encourage public engagement and transparency, free medicinal plants were distributed to all attendees during the program as well.
The Van Mahotsav program witnessed active participation from various sections of society, including students and teachers from Eco Clubs, members of Residents' Welfare Associations (RWA), former MP Mahabal Mishra, and MLAs of the West Delhi Lok Sabha constituency, namely Gulab Singh, Rajkumari Dhillon, Rajesh Rishi, Dhanwati Chandela, Naresh Baliyan, and Girish Soni.
Rai highlighted the significant decline in pollution levels and the noticeable increase in greenery since the government's formation. The next Van Mahotsav celebration will take place at Asola Bhati in the South Lok Sabha constituency on July 30, said officials.