Delhi govt to undertake energy audit for saving electricity: Power Min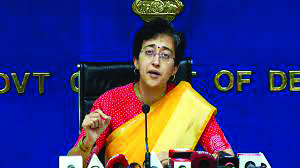 New Delhi: The Delhi government will undertake an energy audit of all its buildings having sanctioned a load of 500 KW and above as well as street lights by certified auditors from the Bureau of Energy Efficiency, Power minister Atishi said on Friday.

The audit will pinpoint areas of excessive power usage in the government buildings and devise strategies to manage and control it, the minister said in a statement.
"The energy audits of government buildings will not only suggest ways to minimise energy consumption but will also alleviate the financial burden on the exchequer.
The energy-saving measures derived from the exercise will also help stabilise Delhi's
overall power demand," she said.
The audit will involve measuring the actual energy consumption of various devices and appliances within the buildings, comparing it with the estimated minimum energy required for the processes, and then identifying economically and technically feasible methods to achieve energy savings, Atishi said.
Delhi government's power department has made the 'energy audit' of government buildings a priority under its mission@2023' and is working on it in a mission mode, she said.
In addition to government buildings, the government intends to conduct energy audits of its streetlights. Currently, streetlight maintenance in Delhi is primarily handled by the MCD, NDMC, and PWD.
The Municipal Corporation of Delhi (MCD) has successfully replaced approximately 6.06 lakh street lights with LED lights.
In the southern district, the MCD has collaborated with the Energy Efficiency Services Limited (EESL) to replace around 3 lakh street lights with energy-efficient LEDs, out of the total 92,000 are maintained by PWD and 22,500 have already been replaced. The process of replacing the remaining streetlights is underway, the Power Department said in a statement.