Delhi floods: Meenakshi Lekhi hits out at AAP govt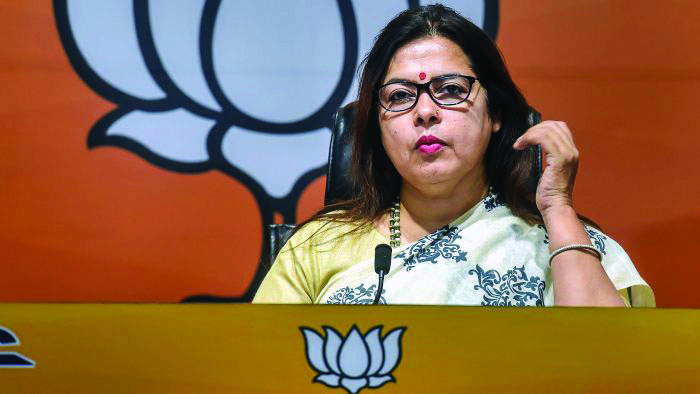 New Delhi: Senior BJP leader Meenakshi Lekhi on Sunday alleged that the flood situation in parts of Delhi happened due to "lack of dredging of the Yamuna", even as she asked as to why the Arvind Kejriwal government has not announced any compensation to farmers and others who have suffered damage of crops and loss of properties in the deluge.

At a press conference held here, she also alleged that the Aam Aadmi Party (AAP) "seeks to do politics" in every adversity, and its leaders only go for "photo-ops" but make no efforts to serve the masses impacted by the flooding.
The Yamuna had been in spate for the last one week, swelling to 207.71 metres on Wednesday, breaching its all-time record of 207.49 metres set in 1978, and inundating several key areas in the national Capital, leaving a large number of people marooned.
The water level came down to 207.98 metres at 11 pm on Friday from 208.66 metres on Thursday, three metres above the danger mark of 205.33 metres. The level on Sunday was recorded at 205.98 metres.
Though the Yamuna water level has come down, politics over the issue continues unabated.
Lekhi, during her interaction with media, also alleged that Chief Minister Arvind Kejriwal did not attend meetings of the apex committee for flood control and preparedness in the past. From June 30, the meeting was further postponed to July 3 and then to July 6, she said.
The ruling AAP, however, denied the claim and said the meeting to discuss flood preparedness chaired by Delhi ministers Atishi and Saurabh Bharadwaj took place on May 9.
While the BJP has been cornering the AAP over the flood-like situation in Delhi, AAP leaders have alleged that the BJP-led government in Haryana released excessive water from Hathnikund barrage which flooded the Yamuna, with water flowing onto the streets and roads of the national capital.
As swollen Yamuna breached its 45-year record on Wednesday, experts attributed the situation to encroachment of floodplains, extreme rainfall in a short duration, and accumulation of silt, which elevated the riverbed.
Lekhi claimed that more volume of water than 3,59,760 cusecs was released in some of the previous years, including in August 2019 when 8,28,000 cusec water was released.
"So, how did the flood come? Will someone answer?" she asked.