Complete work on Sarai Kale Khan flyover or face consequences: Atishi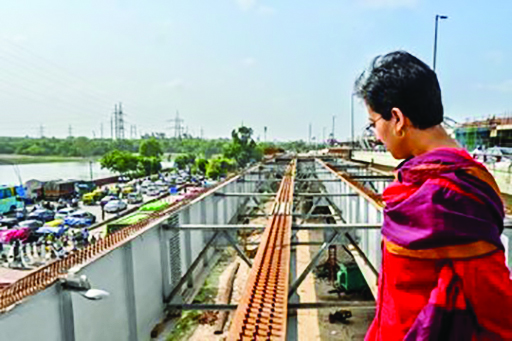 New Delhi: To address the ongoing traffic congestion plaguing the Sarai Kale Khan T-junction and Ring Road, Delhi PWD minister Atishi inspected the under-construction flyover.

Expressing dissatisfaction with the project's one-month delay, she reprimanded officials and set a strict ultimatum. Atishi said that the crucial flyover project must be completed within the next month, warning that officials failing to meet the deadline would face consequences.
"The Delhi government will not tolerate delays in such important projects," she said.
"Every necessary step should be taken to complete the work within the newly-set timeline, ensuring that the work is completed on time and opened for the public soon," she added.
More than 90 per cent of the construction has already been completed, according to officials. The flyover is set to open to the public by September.
The Sarai Kale Khan T-junction, an area notorious for its traffic congestion, is poised to transform. The 643-meter-long, 3-lane flyover, under construction from ITO to Ashram, aims to provide a signal-free corridor along the Ring Road. The move is expected to significantly reduce travel time and fuel consumption for the countless commuters who traverse the route daily. Sarai Kale Khan's importance as a transportation hub is set to increase further with the construction of the Rapid Rail Transit System.
With existing infrastructure like a railway station, metro station, and ISBT, the flyover's timely completion is crucial to ensure smooth traffic flow in the region.
The project targets a pressing concern; the existing flyover facilitates traffic from Ashram to ITO. At the same time, the reverse direction encounters traffic congestion due to a traffic signal at the T-junction. This issue will be resolved once the 3-lane flyover is operational, relieving commuters from frustrating traffic snarls.
The completion of this project will not only improve
traffic flow but also align with the city's evolving transportation needs.