CM slams Centre over Manipur video incident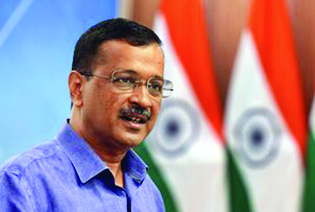 New Delhi: Chief Minister Arvind Kejriwal Thursday said the video of two women being paraded naked in Manipur has shaken the conscience of the nation, and urged Prime Minister Narendra Modi to take strict action to restore peace in the state.

"It has often been seen that PM Modi is quiet on such incidents. It is the sign of a weak leader. A courageous leader comes out in the front. It doesn't happen that they shut themselves in a room. Se has been silent (on the issue)," the AAP chief said.
Tension mounted in the hills of Manipur after a May 4 video surfaced on Wednesday showing two women from one of the warring communities being paraded naked by a few men from the other side.
The video was doing the rounds on the eve of a planned protest march announced by the Indigenous Tribal Leaders' Forum (ITLF) on Thursday to highlight their plight.
"The video that went viral has shaken the conscience of nation. It is criminal and extremely shameful that there has been violence in the state for more than two months but the government did not take any action. It is with extreme sadness that I have to say that Manipur (government) and Centre are responsible for this," he said.
Prime Minister Modi has expressed anger and pain at the video, saying it shamed 140 crore Indians. He asserted law will act with its full might and no guilty will be spared.
Kejriwal also slammed the state government over the incident. "Now that the video went viral only one person has been arrested. The faces of the accused are visible. This shows government's criminal conspiracy, negligence and collusion," he alleged.
When asked about the growing echo for Manipur Chief Minister N Biren Singh's resignation, he said, "For me, the first priority is to restore peace in the state in whatever way possible. I don't want to do politics over it since it's a very sensitive matter. The prime minister has to come forward to take responsibility. Strict steps have to be taken."
Police said a case of abduction, gang rape and murder has been registered at Nongpok Sekmai police station in Thoubal district against unknown armed persons.
Addressing a press conference, Delhi Women and Child Development Minister Atishi said, "Prime Minister Modi did not have the time to visit Manipur. He visited Japan on May 19, Papua Guinea on May 21, Australia on May 22, the US on June 20 and then France and the UAE. But he didn't go to Manipur. Even a delegation from Manipur kept waiting for him but he did not meet them."
"Not only is this video horrific, but it is heart-rending. The whole country watched the kind of behaviour that the women were meted out. It was worse than how animals are treated. But the BJP is not taking action against the violence," she claimed. The Aam Aadmi Party (AAP) leader claimed that one of the women told local media that she was paraded and gang-raped, but police, present there, didn't take any action.
"I want to ask the BJP what will you tell these women? I want to ask the prime minister and Home Minister Amit Shah, what will you tell these women and every woman of the
country? In Manipur, people have been facing violence,"
she said.
Attacking the BJP, Atishi alleged that the party is full of people who "misbehave with women" and named some leaders such as Kuldeep Singh Sengar and Brij Bhushan Sharan Singh. There was no immediate reaction from the BJP on the allegation.