Climate change not problem for Delhi alone: Gopal Rai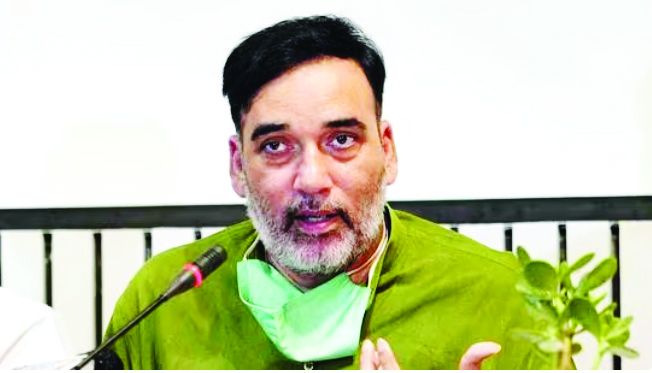 New Delhi: With climate change posing a threat to water security in cities such as Delhi, the city government's Environment Minister Gopal Rai has said extreme weather is not a challenge for the national capital alone and collaboration among states is a must to effectively tackle such situations.
In his first interview following last month's unprecedented floods in Delhi, Rai noted that developing nations, including India, are grappling with the consequences of actions of developed countries.
He emphasised that making environmental protection, climate change and air pollution integral to national politics can pave the way for ecologically-friendly development across the nation. "Climate change doesn't only affect Delhi, it's a challenge for the whole world. Developed nations have contributed the most to climate change because they exploited natural resources without proper checks and balances," he said.
"Many countries followed the path of developed nations and excessively consumed natural resources. Now, they are all experiencing the consequences. This is a crucial issue that concerns humanity as a whole. We need a global perspective to address it," Rai added.
Increase in variability of monsoon rainfall due to climate change is expected to aggravate water shortages and impact hydropower generation in parts of the country, research shows. Asked if it is a cause for concern for Delhi, which relies on neighbouring states for both water and hydroelectricity, Rai said, "These challenges require collaboration and dialogue among the states. In Delhi, we are implementing innovative technologies to recycle water and enhance groundwater levels. However, such measures cannot fully meet the water demand of the entire city."
According to official estimates, around two crore residents of the national capital need approximately 1,300 million gallons per day (MGD) of water for consumption and daily needs. But the Delhi Jal Board can supply only around 1,000 MGD, leaving many areas grappling with a water shortage. Delhi gets 675 MGD of water from Hayana through two canals and the Yamuna and 253 MGD from Uttar Pradesh through the Upper Ganga Canal. The rest is drawn from ranney wells and tubewells installed across the city.
Rai said Delhi, being the national capital, is at the forefront of efforts to combat climate change and environmental degradation.
"The Arvind Kejriwal-led government in Delhi is the most proactive state government in India when it comes to tackling these challenges," he said. Combating environmental degradation and air pollution were among the 10 commitments made by AAP chief Kejriwal before the assembly elections.