Building collapses in north Delhi after fire breaks out
100 fire-fighters had a narrow escape & 3 sustained injuries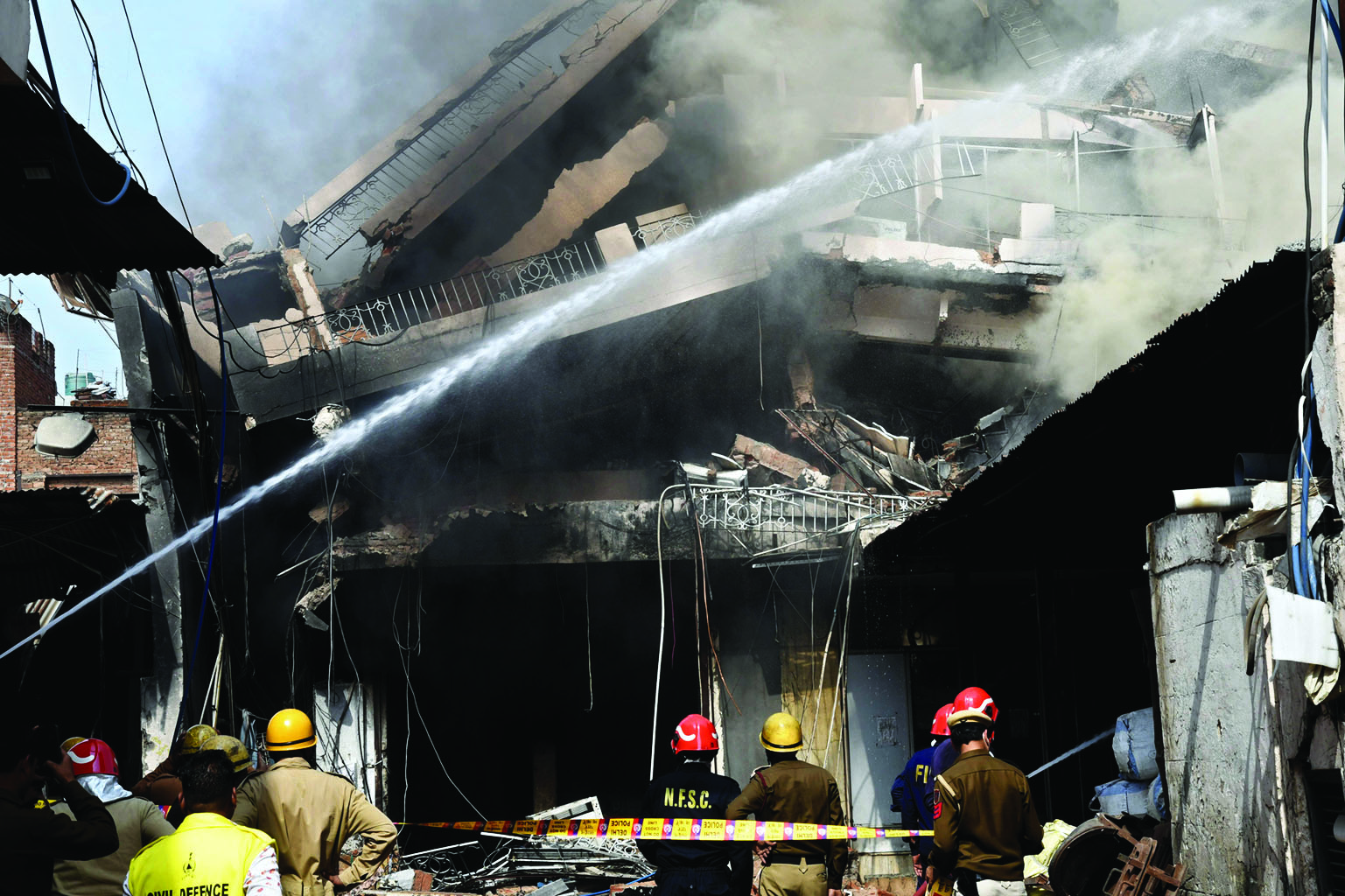 Around 100 fire-fighters had a narrow escape and three sustained minor injuries Wednesday when a three-storey building that had caught fire in north Delhi collapsed while they were dousing the flames, officials said. The three injured firemen were taken to a nearby hospital and discharged later, the officials of the Delhi Fire Service added.
According to police, the building housed the headquarters of a private transport and logistics company. It had multiple offices and a godown, where miscellaneous goods were stocked up. As the fire broke out, residents of nearby buildings were evacuated safely. Even though the flames did not spread out, at least three adjacent buildings developed cracks, a senior police officer said.
The fire department said it received a call about a fire at a factory on Roshanara Road near the Pulbangash metro station, but as its teams reached the spot, they saw it was a building housing several offices and a godown.
Around 100 fire-fighters are deployed, it added.
"We received a call around 11:50 am about a fire at a factory near Jaipur Golden Transport on Roshanara Road. Eighteen fire tenders were rushed to the spot. During the fire-fighting operation, the three-storey building, which had caught fire, collapsed but fortunately, our fire-fighters had a narrow escape. The fire was brought under control after over four-and-a-half hours of the incident but cooling operations will continue till Thursday morning," Atul Garg, Director, Delhi Fire Service, said.
Five more fire tenders were rushed to the spot later, he added.
Gurnek Singh (32), owner of a transport agency whose office is located in the same locality, witnessed the entire incident. He said his company's tempos are usually parked outside the office of Jaipur Golden Transport.
"It was around 11 am when the fire broke out. When we saw fire engulfing the entire building, my drivers and I rushed to the spot with water and fire extinguishers that we usually keep in our transport vehicles. We tried to douse the flames with the available resources," he said.
"The fire started from the ground floor, which was being used as a godown. Clothes were stocked there and it all got burnt, along with other materials. We tried our best to remove the goods from the affected area but the fire started spreading to other floors which housed offices. An electrical short circuit seems to be the reason, but the authorities are examining it," Singh added.
"The fire had spread to the rest of the floors and fumes were coming out. The structure of the building had become weak with the usage of water to douse the flames. Later, while the fire-fighting was still going on, the building collapsed...fortunately no one was injured," he said.
The fire department said the cause of the fire is not known yet.