BJP leaders stage dharna at Rajghat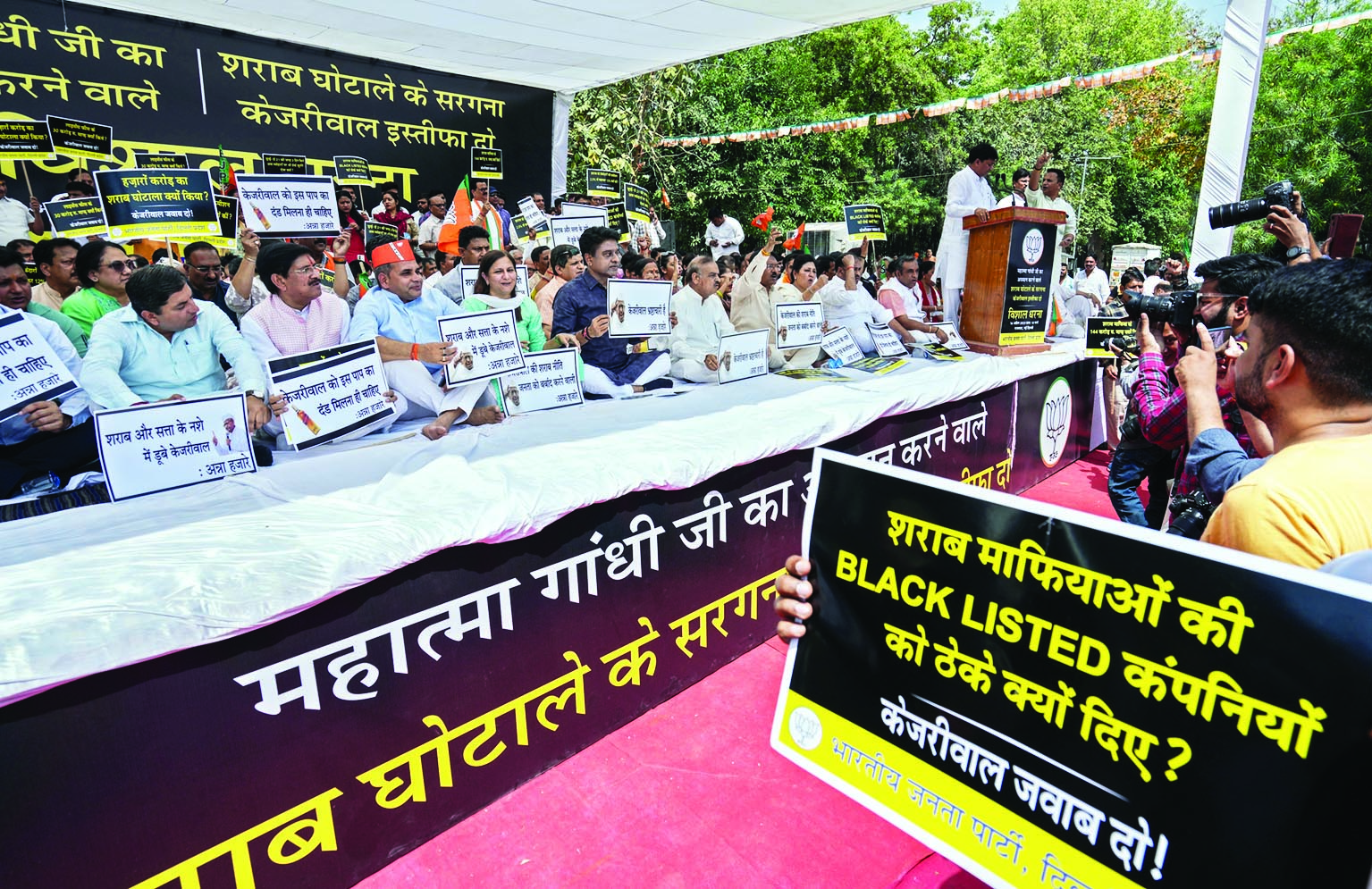 New Delhi: Following AAP supremo Arvind Kejriwal's visit to the Rajghat, Delhi BJP leaders and workers on Sunday staged a sit-in at Rajghat for insulting Mahatma Gandhi by comparing Arvind Kejriwal to him.

Delhi BJP president Virendra Sachdeva went to Rajghat to pray for wisdom for CM Kejriwal and other AAP leaders. Sachdeva said that due to the demands of BJP workers, Kejriwal has also been called by CBI; however, he is trying to hide his lies by performing gimmicks by going to the Rajghat.
He said that Kejriwal's politics is inspired by the villainous role played by his film friend Prakash Raj. Kejriwal's call for a chakka jam in Delhi when called for police questioning is similar to his friend Prakash Raj's call for a chakka jam in the film 'Policegiri'. He
said that BJP's struggle will continue till Kejriwal goes to jail and BJP will protest at assembly on Monday as well.
"When Kejriwal gets trapped, he remembers Mahatma Gandhi, although he has ordered for removing Gandhi's portrait from offices of his government," Sachdeva charged.
He added, "Kejriwal, who praised the liquor policy in Punjab, should answer why he withdrew the new excise policy as soon as the investigation started in Delhi ? The liquor trade from which revenue of Rs 6,000 crore is being benefited, there was a loss of Rs 3,000 crore. He questioned why Rs 144 crore of the liquor mafia was waived?"
Leader of Opposition Ramvir Singh Bidhuri said, "Due to the hard work of BJP workers, CM Kejriwal, the mastermind of liquor policy, is also going to go to jail." He said that we were informed in the assembly that liquor worth Rs 20,000 crore is sold in Delhi every year and the Kejriwal government opened liquor vends in violation of the master plan and the Supreme Court and was not ready to listen to anything.
BJP co-in-charge of Assam Pawan Sharma said that the way the people of Delhi had brought Kejriwal to power, are the same people who are ready to send him inside Tihar Jail. For the last eight years, the Kejriwal government has only done the work of cheating and misleading the people of Delhi by telling lies. Now the people of Delhi have understood this trick of Arvind Kejriwal. He said that Kejriwal has done the work of intoxicating the youth, women and other social sections of Delhi, but the people of Delhi will never allow his intention to succeed.