BJP intensifies attack against AAP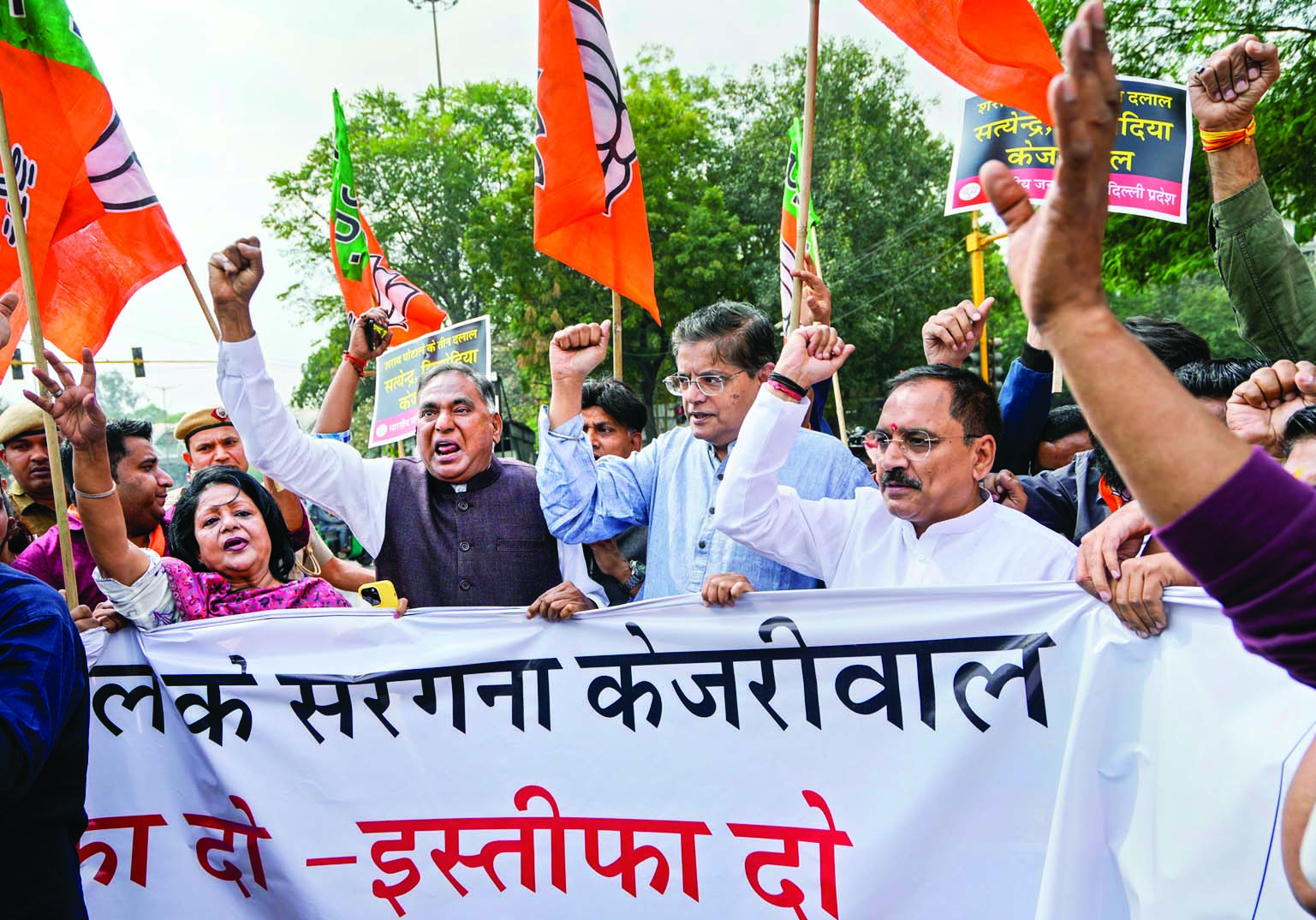 The BJP on Wednesday staged protests at various places here, demanding the resignation of Chief Minister Arvind Kejriwal as it stepped up its attack against the AAP and its supremo in the wake of resignations by two Delhi ministers facing corruption charges.
The saffron party also took its protest online, running a series of tweets with the hashtag "#Thekedar_Kejriwal_Istifa_Do" in Hindi.
The BJP on Tuesday termed the resignation of Manish Sisodia and Satyendar Jain from the Delhi Cabinet amid corruption allegations a "victory of truth and that of the party workers" while claiming that the chief minister would have to resign as well.
Hours before the news of the two ministers' resignations hit the headlines, the BJP had said that it would raise awareness on the "conspiracy" that was hatched to "toy" with the future of youths in Delhi by allowing the "proliferation" of liquor vends.
On Wednesday, BJP workers held protests near the ITO roundabout and several other locations to demand the Delhi chief minister's resignation.
Holding placards and banners, BJP workers split up into groups and hit pockets of the city, raising slogans against Kejriwal and his party.
Many banners bore slogans such as "Sharab ghotale ke sargana Kejriwal — Istifa do, Istifa do".
Virendra Sachdeva, the Delhi BJP working president, asked if his ministers were "innocent", according to Kejriwal, why did the Supreme Court not give them any relief and their resignations were accepted.
In the last eight years, several ministers in the AAP government have resigned, most of them on "corruption charges". Kejriwal should resign on moral grounds, he said.
Leader of Opposition in the Delhi Assembly Ramvir Singh Bidhuri also slammed the AAP and alleged that "Kejriwal is the 'sutradhaar (orchestrator)' of the whole scam in the excise policy".
"Why resignation was not taken from Satyendar Jain for the last nine months and it was suddenly taken from Manish Sisodia. This is the biggest scam and we will continue protesting till the chief minister resigns," he said.
Sachdeva on Tuesday said, "Liquor scam has happened with your complicity and right under your nose. You are responsible for it. Our struggle, demanding your (Kejriwal's) resignation, will continue".