Atishi felicitates inter-ITI Skill-a-thon winners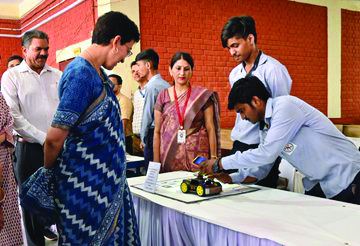 New Delhi: Delhi Education minister Atishi felicitated the "ITI Innovate" winners, an inter-ITI Skill-a-thon for Delhi ITIs organised by the Directorate of Training and Technical Education (DTTE) under the Delhi government.

The three-day event was hosted at four ITI clusters across the city and aimed to foster innovation while providing a platform for ITI students to showcase their skills.
The Inter-ITI Skill-A-Thon witnessed the enthusiastic participation of 1,200 students and nearly 300 teams from various ITIs, fostering collaboration between students, industry experts, and educators. The collective effort showcased the immense potential of Delhi ITI students, proving they are at par with premier engineering institutes in the country.
"The event has provided a platform for our ITI students to showcase their inner talents to the industry and build their confidence," the minister said. She highlighted the challenges children from middle-class and underprivileged backgrounds face in the Indian education system, expressing her hope that the Skill-a-thon would help dispel the notion of limited opportunities for such students.
"I am pleased to share that the projects designed by the ITI students in this Skill-a-thon are highly innovative and can compete with those from premier engineering colleges in this country," she said.
Atishi also applauded the students for their ground-breaking projects, some of which have already caught the attention of global companies like Tesla.
Among the impressive projects showcased at the Skill-a-thon were the "Laser-Based Industry Security System," an innovative security solution that blankets the entire complex with laser light and triggers an alarm if anyone enters without permission.
Students also demonstrated their commitment to road safety with the "Anti-Sleeping Alarm," which uses glasses with multiple sensors to detect driver drowsiness. Upon detecting fatigue, the system sounds an alarm and sprays water on the driver's face to keep them alert while driving.
For visually impaired individuals, the ITI students developed the "Smart Blind Stick," a technologically advanced walking aid that can detect obstacles ahead and enhance mobility and safety. The minister also announced the upcoming launch of "Business Blasters," the government's student entrepreneurship programme tailored for Delhi ITIs. This initiative aims to foster an entrepreneurial culture among ITI students, encouraging them to transform their projects into successful start-ups. Atishi concluded the event by expressing her optimism, envisioning future CEOs and chief technology officers emerging from these institutes.