At DU, AISA holds protest over CUET PG irregularities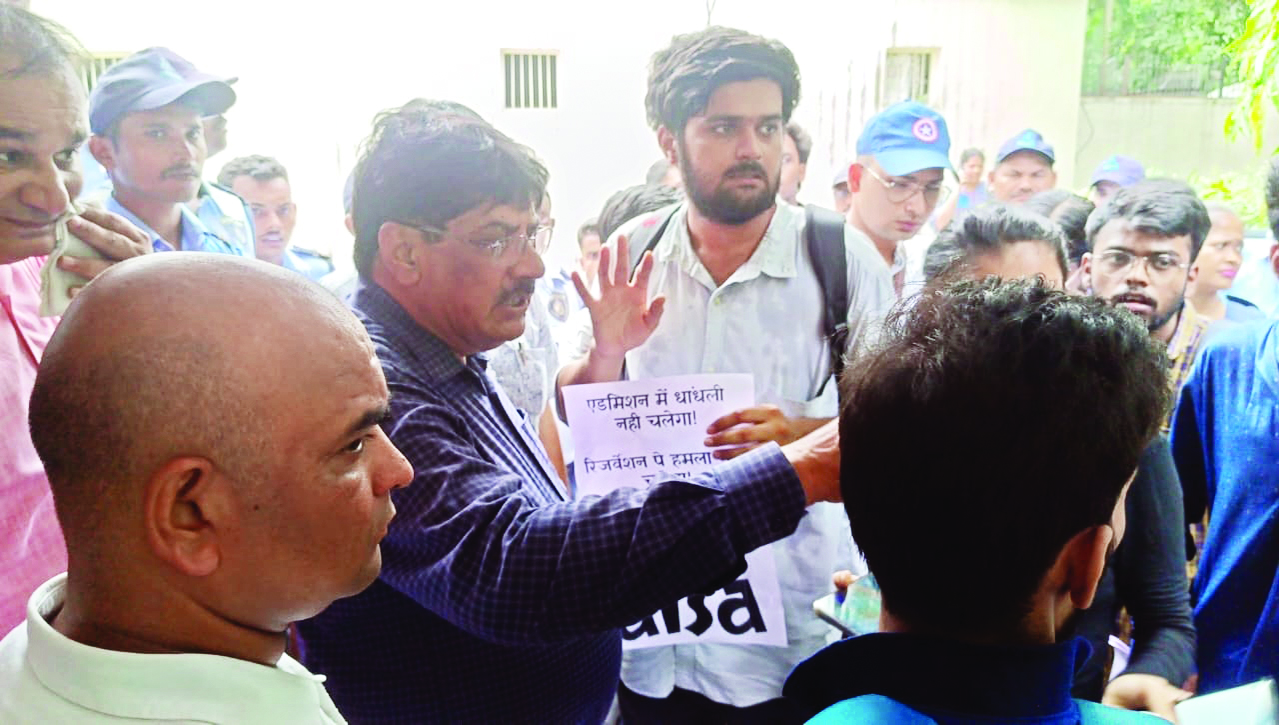 New Delhi: In response to alarming reports of significant disparities in CUET PG admissions at Delhi University (DU), the All India Students' Association (AISA) convened a protest on Monday at the Admission Branch of DU.

The demonstration aimed to secure the immediate release of all admission lists and address the grievances stemming from the admission discrepancies.
The protest garnered a substantial turnout, with numerous students who had endured three days of inconveniences due to the admission irregularities joining forces with AISA to demand accountability. The primary demand was for the admission officials to open a dialogue with the student body.
However, the issue extends beyond mere communication breakdown. Delhi University failed to provide a provisional rank or cutoff list, undermining the admission process's transparency. Moreover, the criteria by which candidates are selected remain frustratingly unspecified, leaving aspiring students perplexed.
Startlingly, a glaring inconsistency exists within the same category of applicants. Some higher-score candidates were denied admission, while their lower-score counterparts secured spots. Compounding the issue, the university's fee payment portal suffered disruptions, and the website experienced regular glitches. The situation worsened for applicants at the department level, as their submissions were rejected without a clear or valid explanation, exacerbating the anxiety of candidates.
A representative from AISA, Anjali, expressed grave concerns regarding the admissions process, stating, "There is substantial evidence of corruption within the seat allocation procedure. High-scoring candidates have been overlooked while those with lower scores secured admissions. The persistent issues with the CGPA calculations remain unresolved."
Students demand greater transparency and clarity regarding the criteria guiding admissions and rejections to restore faith in the admission process. The release of DU's PG entrance results has left many students bewildered, prompting an urgent call for reform.
Following two hours of protest, the admission in charge emerged to engage with the assembled students. A subsequent public notice revealed that DU intends to reopen the portal to re-enter CGPA data and address the issues faced by applicants in the C1 and C2 categories.
Amidst the student communities of DU, Jamia, and JNU, a strong aspiration exists to pursue master's degrees abroad. However, the steep costs associated with international education often render this ambition unattainable for many students, as not all can avail of loans to support such endeavours.
Consequently, the CUET PG programme stands out as a practical alternative, offering accessible avenues to quality education. A masters or PG degree is paramount, serving as a gateway to entry-level employment opportunities within India's job market, especially for freshly graduated individuals.
Additionally, the ongoing turmoil has introduced a new layer of complexity. A substantial number of students are grappling with unemployment due to the prevailing chaos and uncertainty.