AAP's Shelly Oberoi elected Mayor after BJP candidate withdraws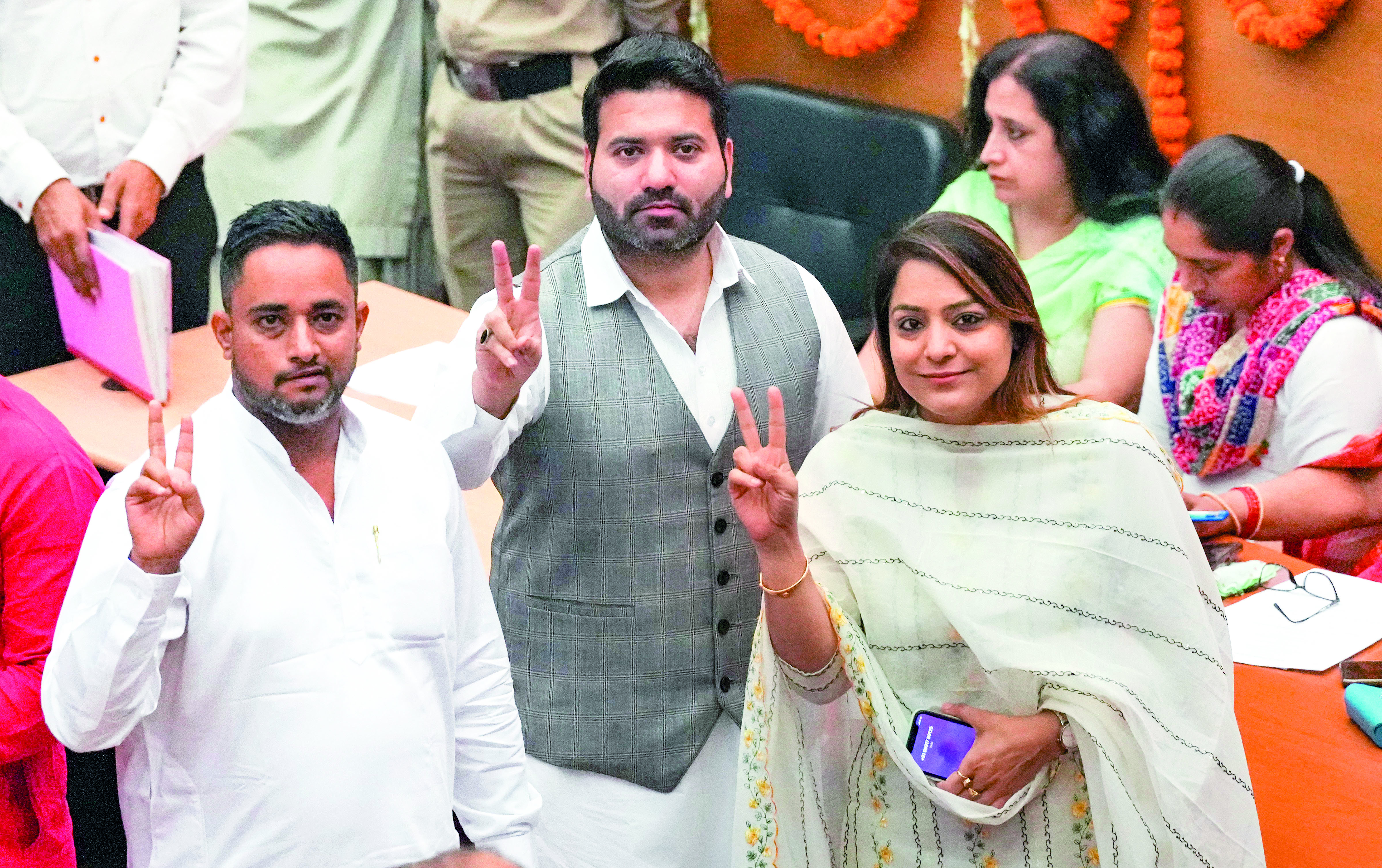 During the fresh round of Mayoral polls in the Municipal Corporation of Delhi, AAP's Shelly Oberoi and Aaley Mohammad Iqbal were re-elected as Mayor and Deputy Mayor respectively after BJP's candidates — Shikha Rai and Soni Pandey withdrew their nominations ahead of voting on Wednesday.
The two BJP leaders stated that they are withdrawing their nominations in protest because Standing Committee elections are being delayed and it is unfair to the democratic process.
As the polls commenced, Presiding Officer Mukesh Goel asked if any of the candidates would like to withdraw their names. BJP's candidate for Mayor, Rai said: "I'm standing here as a worker of the biggest party in this country. Our party has always believed in the democratic process. However, my party has never wanted any position. But in the last few days, we've seen that the Standing Committee is not being formed without which MCD remains incomplete. We are demanding that the Standing Committee elections take place in sync with Mayoral polls".
She further said: "We are asking for Mayoral elections to take place with Standing Committee elections. In view of this, I'm withdrawing my name from the ballot of the Mayoral polls. I request Shelly Oberoi that when she takes the Mayor seat, she maintains that MCD is incomplete without Standing Committee elections". Continued on P4
Soni Pandey followed suit and withdrew her name from the ballot for Deputy Mayor.
After being elected, Mayor Oberoi thanked Chief Minister Arvind Kejriwal, councillors of the party, all the party leaders, the MCD Commissioner and all other officials and staffers present on the occasion. She also thanked BJP's Rai for withdrawing her name and letting her serve the MCD as the Mayor again.
Oberoi said her first priority will be to fulfill 10 guarantees announced by CM Kejriwal during the MCD's election.
"Special efforts will be made to make Delhi a garbage-free and world-class city. In line with the Kejriwal model, special emphasis will be given to sanitation, transformation of schools, parks and hospitals and resolving issues of MCD employees," she added.
The Mayor added that all political parties should work together for the people of Delhi, sidelining political differences.
CM Kejriwal met with the newly elected Mayor and Deputy Mayor shortly after their win along with AAP's MCD in-charge and MLA Durgesh Pathak. Congratulating the leaders, he wrote: "Congratulations Shelly and Aaley on again becoming Mayor and Dy Mayor, this time unopposed. Best wishes to both. People have huge expectations from us. Work hard to meet their expectations."
Pathak, in a press conference held shortly after the Mayoral polls session, said: "BJP has surrendered today, they have admitted they don't have the numbers to contest the Mayor & Deputy Mayor elections".
He said that despite several attempts by the BJP to break their councillors even through the Delhi Police, they were not able to get enough numbers and surrendered in defeat to AAP.
"Many councillors of BJP who believe in democracy, would have voted in our favour, to avoid such insult, the BJP ran away from the fight," he added.
Pathak also accused BJP of offering Rs 10 crore and meetings with Union Home minister Amit Shah to AAP councillors in exchange for leaving AAP.
While there was no immediate reaction from the Delhi Police, Delhi BJP spokesperson Praveen Shankar Kapoor shot back and said Pathak is one of the most "irresponsible leaders", and all through the last four years, "we have seen him speak just to please his political masters".
Pathak knows that on a day when Kejriwal is in "a political tight spot", then only an "irresponsible statement that the BJP is misusing police machinery to buy AAP councillors, will please Kejriwal", he alleged, in a reference to claims made by his party that about Rs 45 crore was spent on the "beautification" of the CM's official residence.
The Delhi BJP spokesperson asked Pathak to stop making "weird allegations" and challenged him to "show evidence" even in one case in which any AAP councillor has been pressured by any police officer or offered money to switch sides.
Senior AAP leader and Cabinet minister Saurabh Bharadwaj also slammed the BJP for running away from Mayoral polls. He said BJP faced humiliation all over Delhi after surrendering in Mayor polls and if BJP had to forfeit, it should not have participated in the Mayoral election itself. He added that the party does not even have the full support of their councillors and was scared of being exposed and therefore, ran away from the polls.
He further said: "The work that AAP has started in MCD will now gain more momentum, after the formation of the Standing Committee, work will be done at double the speed".