AAP protests outside BJP HQ over Adani issue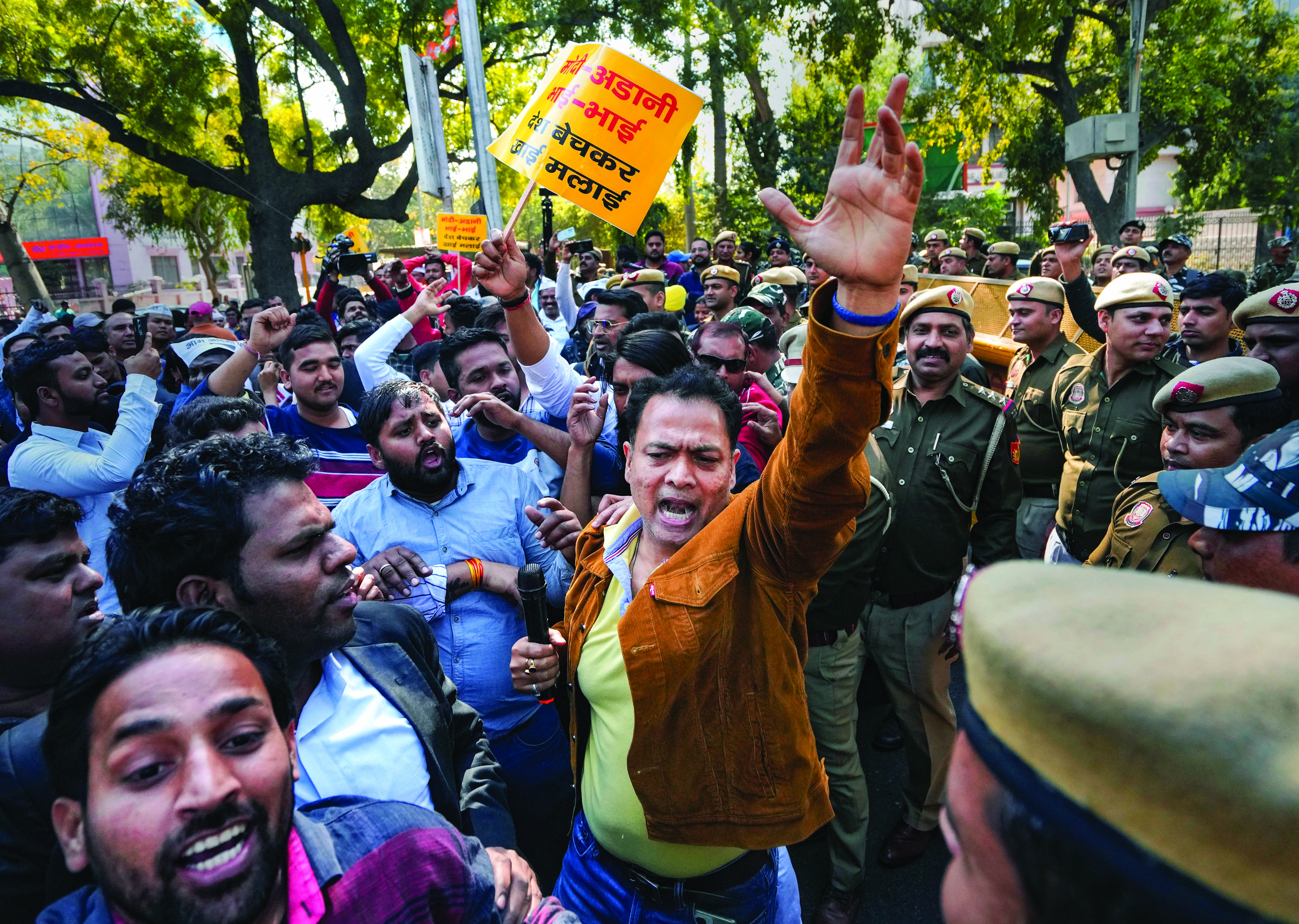 New Delhi: The Aam Aadmi Party staged a protest outside the BJP headquarters here on Sunday, demanding a probe into the allegations against the Adani Group made in a Hindenburg Research report.

The party's Delhi convener Gopal Rai demanded a joint parliamentary committee (JPC) probe into the matter.
"BJP is running away from probe. There is only one leader, Chief Minister Arvind Kejriwal, who is not scared of any investigation. The Centre pretends to investigate everything, why are they afraid of an investigation into Adani now? If the charges of the scam are proven to be false, the accused will be exonerated from the investigation. Why does the BJP feel threatened? he asked.
Rai further claimed a JPC investigation into the Adani issue is a collective demand of the people.
"The people of the country who have money in LIC and SBI are on the verge of losing all of their capital. It is still not clear whether the funds that were fraudulently obtained from many banks in the country are similarly at risk," he claimed.
Adani Group stocks had taken a beating on the bourses after US-based activist short-seller Hindenburg Research made a litany of allegations, including fraudulent transactions and share price manipulation, against the Gautam Adani-led group. The Adani Group has dismissed the charges as lies, saying it complies with all laws and disclosure requirements.
AAP national spokesperson Saurabh Bharadwaj alleged the prime minister remained "silent" on the Adani matter and did not respond to questions being raised about it.
"PM Modi never speaks on Adani matter but wherever he goes, Adani follows. Adani has got a coal mine in Australia, defence deal in Israel, green energy project in Sri Lanka and electricity contract in Bangladesh, this is enough to prove what the level of ties he has with the PM. Hindenburg has exposed many companies before also and now, it rightly told the world that Adani's stock will sink," Bharadwaj alleged.
Lashing out at the Centre, AAP leader Durgesh Pathak alleged that the Centre has given "all the country's resources to the Adani Group". "In 2014, the BJP government came into power and wanted to favour their own family. They ended up giving all the country's resources to the Adani Group. There is a list of the wealthiest persons in the world and in 2014, Gautam Adani was ranked 600-something in the list. Within eight years, his wealth has increased by a thousand times,"
Pathak alleged. Several opposition parties, including the Congress, have demanded a joint parliamentary committee probe into the issue.