AAP MP Sanjay Singh sends legal notice to ED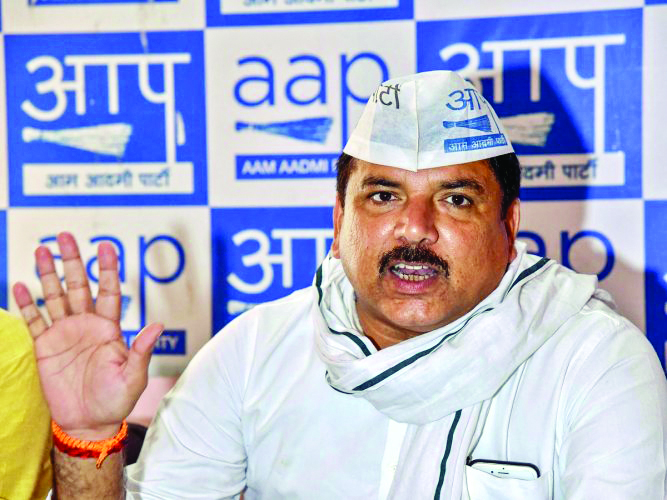 New Delhi: AAP MP Sanjay Singh sent a legal notice to the Enforcement Directorate on Saturday asking it to issue an apology or else face civil and criminal proceedings for allegedly making false and derogatory claims about him in the Delhi excise policy case.

According to a statement issued by the Aam Aadmi Party (AAP), the legal notice stated that the agency's associates, agents and employees have attempted to tarnish and mutilate the leader's public image by popularising "a perverse, false, motivated, wild, malicious and baseless campaign" against his alleged involvement in Delhi excise policy case.
The officials have "knowingly and intentionally" made certain "untrue, defamatory, and incriminating statements" against Singh in the Delhi excise policy prosecution complaint, the legal notice, addressed to ED Director Sanjay Kumar Mishra and Additional Director Jogender, charged.
"In the conspiracy to defame...Sanjay Singh, the ED has deliberately and maliciously defamed him by imputing his involvement in some liquor policy on the basis of an alleged statement of Dinesh Arora recorded under Section 50 of the Prevention of Money Laundering Act on October 1, 2022," the legal notice stated.
The notice called upon the ED to "immediately" issue an open and public apology within 48 hours of its receipt for "the mental agony and harassment" faced by the Rajya Sabha member.
"Please note that ED is severely liable for such misdeed done with malicious intent. If you fail to comply with the above within 48 hours of the date of receipt of this notice, I have instructions to initiate appropriate civil and criminal proceedings against you before the competent court, and in that event, you shall be fully responsible for the same and related cost and consequences," the AAP statement quoted Singh's lawyer Maninderjit Singh Bedi as stating in the legal notice.
"The alleged statement of Dinesh Arora as recorded by the ED has been mischaracterized and misquoted by the ED in the complaint for ulterior purposes," Bedi charged in the notice.
The ED has "intentionally" added Singh's name without any basis with the mala-fide intent to cause disrepute to him. Towards this end, the ED has further circulated and caused to be published the complaint and specifically the portion pertaining to my client, Bedi added.
In his statement, Singh said it is highly regrettable that an agency like the ED, which is supposed to be impartial, has resorted to levelling such baseless allegations against him.
"I will not tolerate this kind of character assassination, and I have decided to take legal action against the officials responsible," he added.