AAP claims power ministry sought probe into coal diversion by Adani Enterprises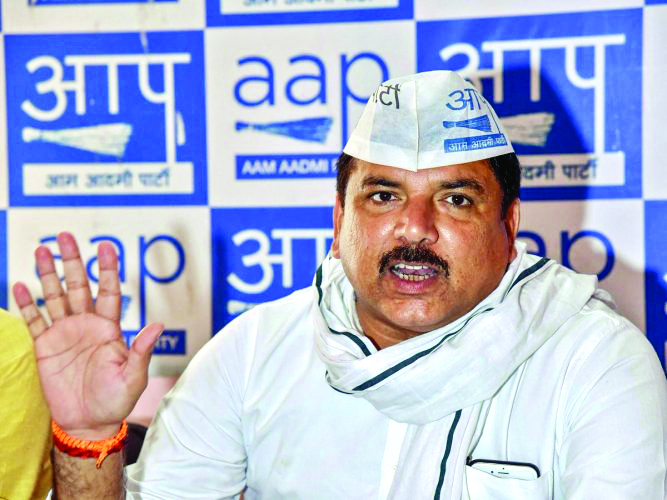 New Delhi: A day after alleging a coal mining "scam" by Adani Enterprises Limited, the AAP on Saturday claimed the Union power ministry had last year called for a probe into alleged diversion of coal extracted by the company from Chhattisgarh to one of its power plants in the name of washery rejects.

Addressing a press conference at the party headquarters, AAP spokesperson Sanjay Singh asked Prime Minister Narendra Modi as to why no action was taken against industrialist Gautam Adani over the matter.
The Union power ministry had last year called for a probe into alleged diversion of coal, extracted by Adani Enterprises Limited from Chhattisgarh as part of a joint venture with the Rajasthan government, to Adani's power plant, Singh claimed.
In a letter to the Coal Ministry and the Gujarat government in February last year, the then additional power secretary had also recommended a probe into the allegation that Adani's company, instead of fulfilling its commitment to provide 150 MW power to the Gujarat Urja Vikas Nigam Ltd (GUVNL), sold it to power exchanges at higher rates during the coal crisis, he said.
"Why no action was taken against Adani? What were the CBI and the ED doing at that time," Singh asked Modi, showing a purported copy of the former additional power secretary's letter.
"Adani did not only cheat the Rajasthan government but also the government of Gujarat and the people of the state," the AAP leader charged.
Singh said he will bring "many more episodes on Adani's scam" in the coming days.
"It was just the beginning of the episodes on Adani Ji's scams that I brought to you yesterday," he added.
The AAP on Friday alleged a "big scam" in the mining and delivery of coal by the AEL in Chhattisgarh in a joint venture with the Rajasthan Rajya Vidyut Utpadan Nigam Limited (RRVUNL), and demanded a probe by the central agencies.
Singh had claimed that AEL has been carrying out mining operations at Parsa and Kente extension coal blocks in Chhattisgarh under the joint venture in a "blatant" violation of a 2014 Supreme Court judgment and a law enacted in 2015.
On February 27, the Supreme Court agreed to hear on March 14 pleas related to allocation of coal blocks in Chhattisgarh to the RRVUNL and mining operations by AEL.
The AAP has upped the ante against the BJP since the Central Bureau of Investigation arrested Sisodia in connection with alleged corruption in the formulation and implementation of the Delhi excise policy 2021-22.