AAP blames BJP for rising crime, urges action for safety of women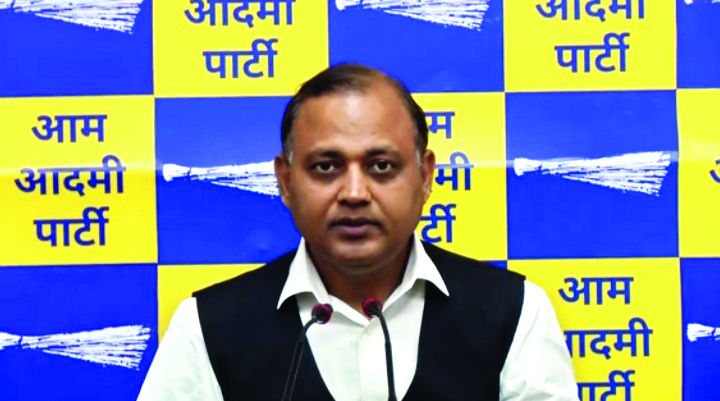 New Delhi: The ruling Aam Aadmi Party (AAP) in Delhi launched a scathing attack on the Bharatiya Janata Party (BJP) over the rising incidents of murder in the capital city.

The recent shocking murder of a 23-year-old girl in broad daylight at the Vijay Mandal Park in Malviya Nagar assembly constituency has sparked concerns over law and order in Delhi.
Chief Minister Arvind Kejriwal expressed his deep sorrow over the tragic incident and urged the Lieutenant Governor and Union Home Minister Amit Shah, to take decisive action to bolster the city's security.
In a tweet, he stated, "Another daughter was brutally murdered in Delhi; it is profoundly sad that law and order has become such a pressing issue in Delhi. I request L-G sir and Home Minister to proactively engage the police force. The safety of the daughters of Delhi and the people of Delhi is of paramount importance."
Senior AAP leader and MLA Somnath Bharti, held a press conference on Friday where he voiced his grave concern over the audacity of criminals and the deteriorating law and order situation in Delhi. He stressed that while such incidents should not be politicised, the authorities must be held accountable.
Bharti stated, "The occurrence of a broad daylight murder just 100-150 meters away from the Malviya Nagar police station reflects the audacity of the criminals and indicates a serious issue with their morale."
"It is disheartening to witness the neglect of responsibilities regarding law and order, police, and land, which the people of Delhi have entrusted to Arvind Kejriwal by both PM Modi ji and the L-G," he added.
AAP has called for the L-G to take swift action to make Delhi crime-free and ensure the safety of its residents, particularly women. The party demanded that the central government, led by the BJP, be held accountable for the security lapses in the capital.