74th pilgrimage train departs for Dwarkadhish with 780 sr citizens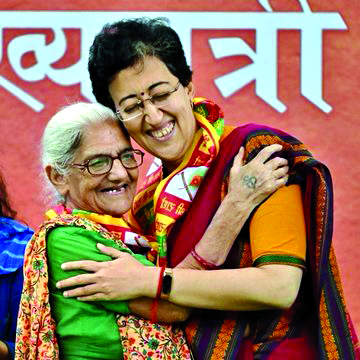 The Delhi government marked another significant milestone as the 74th pilgrimage train departed for Dwarkadhish, Gujarat, carrying 780 senior citizens as part of the Chief Minister Teerth Yatra Scheme on Wednesday.
A heart-warming 'Bhajan Sandhya' was organised at Thyagaraj Stadium to send off the pilgrims with blessings and a sense of unity. Delhi Revenue Minister Atishi who was present at the event, distributed travel tickets and kits to the eager pilgrims.
In her address, Atishi expressed the city's good fortune: "We are fortunate to send our senior citizens from Delhi on a pilgrimage and receive their blessings and love. Senior residents of Delhi are very fortunate because their son CM Arvind Kejriwal has taken the responsibility of sending every elder on a pilgrimage."
The initiative has seen nearly 72,000 senior citizens embark on spiritual journeys to various pilgrimage sites across India. "Our CM ensures that every aspect of the journey is well taken care of, and no situation arises where the people have to face any difficulties," Atishi said.
Previous pilgrims have commended the arrangements, likening the experience to being cared for by family. The Teerth Yatra Scheme allows pilgrims to visit destinations such as Rameshwaram, Dwarkadhish, Somnath, Jagannath Puri, Mata Vaishno Devi, and many more, all at the government's expense. Eligible travellers can apply online, and once selected, the government takes care of every detail, from transportation to accommodation, meals, and even travel kits. "Undertaking a pilgrimage is a highly virtuous deed. Such moments of helping our elderly generation fulfill this dream bring us joy,
even if we are unable to undertake the pilgrimage ourselves," Atishi added.