4 workers dead as lift collapses at construction site in G Noida West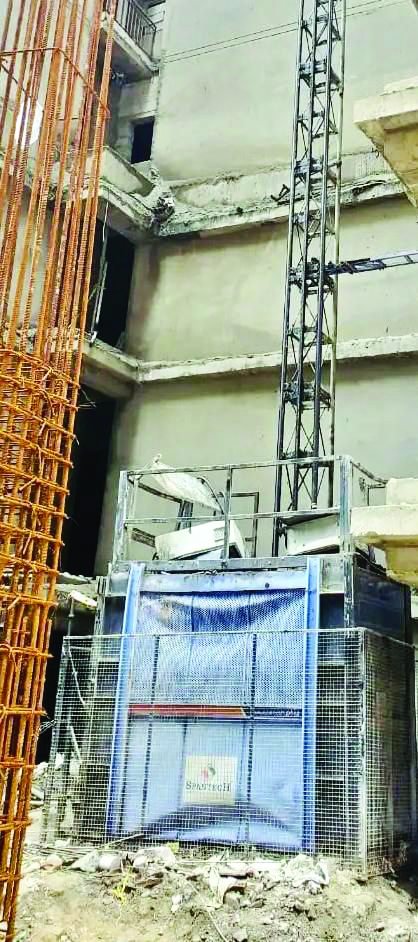 Greater Noida: Four labourers have died while five others were injured after a service lift at under construction Amrapali Dream Valley residential project in Greater Noida West collapsed on Friday morning.

The incident took place around 8:30 a.m. when labourers were doing construction work. While moving upward, the lift had a free fall from the 14th floor and nine labourers inside were critically injured. "Four labourers were declared dead at the hospital while five are admitted in Intensive Care Unit (ICU)," Manish Kumar Verma, District Magistrate, Gautam Buddh Nagar said.
According to police, the deceased have been identified as Arun Mandal (38), Vipat Mandal (42), Ishtaq Ali (24), all natives of Bihar and Aris Khan (22), from Amroha district of Uttar Pradesh. Those injured were Abdul Mustakeem, Asul Mustakeem, Kuldeep Pal, Arbaz Ali and Kaif.
"Prima facie it appears that there were no security arrangements made at the site by the contractor for the safety of labourers. They were not provided with safety kits nor was there any safety net. The site has been vacated and sealed. Forensic teams have collected samples and investigation into the case is underway," said Noida Police Commissioner Laxmi Singh while adding that FIR is being registered against NBCC and their contractors under section of culpable homicide not amounting to murder for their negligence.
UP Chief Minister Yogi Adityanath expressed grief over the tragic incident and ordered officials to properly investigate the matter and provide all possible help to the victims.
The Amrapali Dream Valley project was stalled for several years and recently NBCC, a government body tasked to complete stuck realty projects, took over the project to finish the units and handover to buyers.
"The project was under litigation and the court has ordered NBCC to complete the project. The construction work was supposed to be done under the supervision of experts and with proper safety measures, which was not seen at the site. We are now finding out to whom the project was sub-leased by the NBCC for construction work," said Amandeep Duli, Additional Chief Executive Officer (ACEO), Greater Noida Industrial Development Authority.
The tragic incident seems an eye-opener for authorities who are now performing security checks at all the under-construction building sites to ensure that the work is being carried out following safety norms.
"We have formed teams who will perform inspections at all the under-construction sites to check the safety for workers performing construction work. Strict actions will be taken against violators," added ACEO Duli. Similarly, Lokesh M, Chief Executive Officer (CEO), Noida Authority has issued instructions to all the builders and Apartment Owner Associations to take stock of lifts in their buildings and get the servicing of their lifts done at the earliest.
"The report compliances of these instructions are to be submitted within 1 month of issuance of these instructions. Notices shall be issued, and actions shall be taken against builders & AOA which fail to comply with these instructions and submit their report within the stipulated time period," a senior Noida Authority officer said. The officer said in case, any untoward incident happens because of lack of servicing of lifts, concerned builder/ AOA shall be held responsible for criminal negligence and suitable actions shall be taken against them. Following the incident, the resident associations of Greater Noida West have demanded implementation of the Lift Act.