Rising cost of data a concern, Meity will reach out to Trai for assessment, says MoS IT Rajeev Chandrasekhar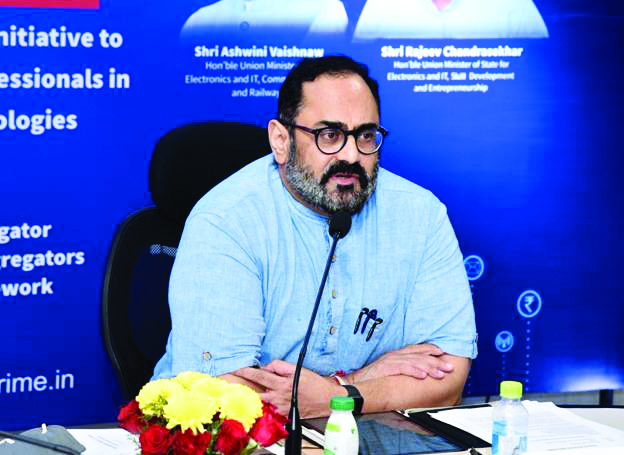 vices are a concern for the rapid proliferation of digitisation, Minister of State for Electronics and IT Rajeev Chandrasekhar said on Wednesday.
The comments have come against the backdrop of a recent hike of about 57 per cent in the minimum monthly recharge plan by the country's second-largest telco Bharti Airtel.
"Rise in cost of data or cost of devices is a matter of concern because they are impediments in rapid digitisation. We have a target to bring 120 crore Indians online by 2025. We have 83 crore Indians online today. We certainly see issues in rising cost of data consumption or any rise in the cost of devices," Chandrasekhar said on the sidelines of the India Stack Developer Conference.
The minister said that he has not studied the recent tariff hike in mobile services rates by Airtel and will wait for telecom regulator Trai to examine it.
"We are certainly going to talk to Trai, that's what is it? Is it short-term because of the Russia-Ukraine Global issue? Is it long-term? Is it a trend or more of an episodic issue? These are the questions that we are going to ask," Chandrasekhar said.
He also said that there has been an impact on prices across the world due to the Russia-Ukraine war and the impact of data prices needs to be examined.
The minister said the cost of data and devices are barriers to digitisation. "If an operator is going to take it then that is an issue that Meity will certainly ask questions why are they taking it up? What are the reasons behind it? Is it because of a supply chain issue? But it is our mission in Meity to ensure that data remains affordable in India because that is the secret sauce of digitisation," he noted.
Bharti Airtel has increased the price of its minimum recharge for the 28-day mobile phone service plan by about 57 per cent to Rs 155 in eight circles, including Karnataka, Andhra Pradesh, Bihar and Uttar Pradesh West.
The company has stopped its minimum recharge plan of Rs 99, under which it offered 200 megabyte of data and calls at the rate of Rs 2.5 paise per second. In Haryana and Odisha, Airtel has now started offering the Rs 155 plan with unlimited calling, 1 GB of data and 300 SMSes.
Ministry of Electronics and IT secretary Alkesh Kumar Sharma said people should have access to digital inclusion, talk about digital empowerment and ensure there is no digital divide.
"We should ensure digital connectivity to each and every part of the country. We should ensure the cost of data should be in the affordable range and create a manufacturing ecosystem to bridge digital by lowering the cost of devices," he said.
While speaking at the conference, the minister said that five to seven countries are expected to sign up for adopting India-developed technology platforms like UPI and Aadhaar by March for accelerating digitisation
"I expect by February-March, about 5-7 countries around the world to sign up (for adopting platforms)," Chandrasekhar said. He said that countries from Asia, Africa, Europe and South America are expected to sign up.
The government plans to reach out to several countries to offer them technology stack (Aadhaar, UPI, Digi Locker, Co-Win, GeM, GSTN etc) as part of its responsibility as G20 Presidency and expects Indian startups and system integrators to gain from the exercise.PTI